Do you know how your faculty handbook measures up?
Outdated faculty handbooks limit institutional flexibility and can create significant liabilities. This online training will outline five common problems with faculty handbooks and offer practical solutions to address each issue.
You will leave with clarity around whether your handbook:
Complies with Title IX, the ADA, and other civil rights laws
Aligns with your board's bylaws, organizational structure, and mission
Defines how academic freedom, shared governance, and tenure work on your campus
Case Studies and Real-Life Examples
This online training highlights real-life situations. Using case study scenarios, you will receive practical do's and don'ts to help you update your handbook. You will also have the opportunity to ask questions about your faculty handbook and receive answers from our expert instructor.
Who Should Attend
This online training is appropriate for those responsible for managing faculty handbooks, including academic affairs administrators, human resources professionals, and legal counsel.
Agenda
After highlighting possible implications of outdated handbooks, our instructor will cover five common problems with handbooks and offer ideas for solutions:
Common problem #1: Inconsistency between appointment letters and handbooks
Common problem #2: Failure to define essential terms
Common problem #3: Unclear discipline/dismissal procedures and appeal/grievance provisions
Common problem #4: Unworkable, obsolete, or illegal provisions
Common problem #5: Unnecessary or inappropriate material for a faculty handbook
We'll close with suggestions on setting a schedule for revisions and involving faculty in the process.
Instructor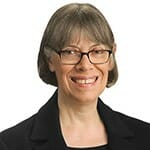 Ellen M. Babbitt
Partner, Husch Blackwell LLP
Since 1991, she has concentrated on the representation of colleges, universities, and other institutions of higher learning. She regularly assists educational institutions and their administrators in drafting and updating institutional policies, including board bylaws, faculty handbooks, academic integrity policies, faculty codes of conduct, grievance procedures, ADA accommodation processes, and other compliance protocols. Read Ellen's full bio here.
Questions About the Event? Email this event's Program Manager, Christine Murphy.
Product Information
What's included in your purchase?
Live webcast session – a live presentation where you have the chance to ask questions and get personalized answers from our expert speakers. You must purchase the product prior to the live date in order to attend the live session.
Webcast recording – a recording of our live session that you can access anywhere, anytime.
For more details about this product, please visit our Product FAQs.