Learn the immediate steps you can take to improve your transfer student pathways.
Overview
Developing strong transfer pathways is beneficial for two-year institutions, four-year institutions, and students alike when done properly. Two-year institutions can use their relationships with surrounding four-year institutions to market themselves to prospective students who intend to transfer, while four-year institutions benefit from having a sustained pool of students to recruit from feeder schools. Most importantly, students benefit from having a smooth transition between institutions, greatly increasing their likelihood to persist through graduation.
Join us for this virtual conference to learn how you can cultivate partnerships between two- and four-year institutions, increase your transfer enrollment, and help transfer students persist through graduation. We have assembled experts from both two-year and four-year institutions to deliver the unique perspectives of each institutional type and lead us as we focus on:
Understanding the latest transfer trends and best practices amid the COVID-19 pandemic
Assessing the strengths and weaknesses of your transfer program
Cultivating successful two-year and four-year relationships
Developing articulation agreements for specific programs
Collaborating with faculty on transfer agreements
Organizing pre-transfer advising, orientation, and peer mentor groups
Why This Training is Critically Important
Though transfer students represent a significant opportunity for both institutions and students, this opportunity has not been leveraged to its fullest potential. The statistics below indicate that transfer student pathways remain an underdeveloped avenue for institutions and students.
Transfer students represent a growing percentage of the overall student body. (National Student Clearinghouse, 2012)
On average, students lose an estimated 43% of their credits when they transfer. (Government Accountability Office)
Only 25% of those who start at a community college end up transferring to a four-year institution. (CCRC)
About four million community college students intend to transfer to four-year institutions but don't. (EAB)
Who Should Attend
This program was specifically designed to benefit teams from both two-year and four-year institutions involved with:
Transfer student success programs
Transfer enrollment
2-year/4-year partnerships or 2+2 programs
First-Year Experience programs, if they include serving transfer students
As the coronavirus pandemic unfolds nationally, it is so important to keep connecting and networking with your peers - at a "social distance" - and to keep learning and developing as higher-ed leaders and professionals. Don't let social distancing and quarantines prevent you from setting aside time for professional development. Everything is changing so fast; more than ever, we need to be pooling our resources and knowledge and finding the best ways to develop our capacity, connect and share with each other, and move forward during a challenging time.
The Academic Impressions Virtual Conference Experience
Our virtual conferences go far beyond just replicating PowerPoint presentations online: these new programs are intentionally designed to give you the kind of robust and dynamic learning experience you've come to expect from Academic Impressions. As higher education strives to adapt rapidly to the shifting crisis, connecting with your peers who are experiencing similar challenges can be the best use of your professional development time.
What you will get:
A dynamic, interactive, and high-touch virtual learning experience designed to engage and set you up for growth
Seamless online face-time, networking, group work, and Q&A opportunities from the comfort of your own workspace
Practical takeaways and hands-on knowledge
Unlimited access to all recorded online sessions
Access to an online conference hub — one-stop shop for presentation materials, attendee introductions, worksheets, supplemental reading, videos, and other resources
See What Our Attendees are Saying
"At first, I was skeptical that a virtual conference was capable of being both engaging and informational - but Academic Impressions has mastered it! The 3-day online event was structured in a creative way that all participants had multiple opportunities to interact with each other and the presenters. No one's questions went unheard or unanswered. Thank you for this great experience, it has changed my view of virtual conferences and I look forward to attending more in the future."
- Desiree Ford, Digital Communications Manager, Binghamton University
"The virtual conference has been amazing. The presenters have all been great and the information they've provided is going to help us better use our social media. Even though this conference had to be virtualized due to COVID-19, the online format has been set up in a way that we can all collaborate and share ideas. I'm very eager to take what I've learned back to campus and start implementing new ideas."
- Chris Forde, Coordinator of Marketing & Public Information, Lincoln Trail College
Day One (all times Eastern)
Tech Check
11:00 – 11:30 a.m.
---
Welcome and Introductions
11:30 a.m. - 12:15 p.m.
---
Break
12:15 – 12:30 p.m.
---
Transfer Trends and Opportunities Amid the COVID-19 Pandemic
12:30 – 1:30 p.m.
This opening session is designed to provide you with data and trends, as well as help you understand the opportunities that exist around transfer more broadly in the current market context.
---
Break
1:30 – 2:00 p.m.
---
Cultivating Relationships Between Two-Year and Four-Year Institutions
2:00 – 3:00 p.m.
Co-presented by a two-year and a four-year institutional representative, this session is aimed at helping you understand best practices to cultivate and strengthen these critical partnerships.
---
Break
3:00 – 3:15 p.m.
---
Cultivating Relationships: Working Session
3:15 – 4:00 p.m.
You will participate in an activity to identify steps for cultivating relationships with your top-priority two-year or four-year institutions.
---
Day 1 Close
4:00 – 4:15 p.m.
---
Optional: Virtual Networking
4:15 – 4:45 p.m.
This informal virtual networking time is your chance to decompress, share resources, and expand your network of connections with other attendees and our conference facilitators.
---
Day Two (all times Eastern)
Optional Tech Check
11:00 – 11:30 a.m.
---
Day Two Welcome
11:30 – 11:45 a.m.
---
Forming Effective Articulation Agreements: Part 1
11:45 a.m. – 12:45 p.m.
You will learn how to approach articulation agreements: who should oversee the process, what constitutes a strong articulation agreement, and how to maintain their momentum.
---
Break
12:45 – 1:00 p.m.
---
Forming Effective Articulation Agreements: Part 2
1:00 – 2:00 p.m.
As we dig deeper into this topic, you will have an opportunity to work in small groups to prioritize the programs for your articulation agreements and identify key partners and initial steps needed to move forward.
---
Break
2:00 – 2:30 p.m.
---
Collaborating with Faculty and Other Stakeholders in the Transfer Process
2:30 – 3:30 p.m.
Many working in the transfer space express challenges when it comes to gaining faculty buy-in and support for transfer agreements with two-year institutions. During this hour, we will initiate a discussion and share best practices for how to get faculty "on the bus." We will cover how transfer personnel can increase transfer student success through initiatives such as facilitating two-year/four-year partnerships with faculty and implementing a faculty mentorship program.
---
Break
3:30 – 3:45 p.m.
---
Best Practices in Pre-Transfer Advising
3:45 – 4:45 p.m.
Pre-transfer advising is something that many institutions practice, but each takes on a slightly different approach. You will examine approaches to pre-transfer advising – including advising communication strategies around credit articulation and tips for increasing engagement/success when interacting with potential transfer students – from both two-year and four-year perspectives.
---
Day 2 Close
4:45 – 5:00 p.m.
---
Day Three (all times Eastern)
Optional Tech Check
11:00 – 11:30 a.m.
---
Day Three Welcome
11:30 – 11:45 a.m.
---
Designing Successful Transfer Student Orientations: Part 1
11:45 a.m. – 12:45 p.m.
A key step in getting transfer students enrolled and set up for success is creating an orientation specific to your transfer population. Our experts will provide examples of how their institutions have organized their transfer-specific orientations, with a particular emphasis on how they were rethought and transitioned to different formats amid the coronavirus pandemic. You will gain ideas and inspiration on timing, format, length, and content that you can modify for your needs as you design your next orientation.
---
Break
12:45 – 1:00 p.m.
---
Designing Successful Transfer Student Orientations: Part 2
1:00 – 1:45 p.m.
In the second portion of our orientation discussion, you will have the opportunity to work in small groups to identify your top priorities to begin moving your transfer-focused work forward.
---
Break
1:45 – 2:15 p.m.
---
Creating Meaningful Transfer Peer Mentor Programs
2:15 – 3:15 p.m.
Many institutions use peer mentor programs as a means of engaging transfer students once they are enrolled and on campus. In this session, one institution will provide an in-depth look at the peer mentor program they are currently running for transfer students. You will come away with ideas on how to go about creating or improving your own transfer peer mentor program. This model has been highlighted at several conferences due to its success.
---
Conference Close: Final Q&A
3:15 – 3:30 p.m.
Jonathan Fries
Interim Executive Director, Academic Achievement Center and Director of Second-Year, Transfer & Transition Initiatives, University of Lynchburg
In his current role, Jonathan oversees Transfer, Adult Learner, Commuter, and Second-Year student services as well as the Academic Achievement Center. This includes overseeing the transfer peer mentoring program, Transfer Orientation, Adult Orientation, Second-Year Welcome Week, Tau Sigma: Transfer Honor Society, and the Commuter Student Association. He has 10 years of experience working in higher education, with four of those years working directly with transfer and adult learners.
Tom Gutto
Director of Transfer Enrollment Services, Loyola Marymount University
Tom is responsible for leading programs and initiatives within Enrollment Management, and collaborating across the institution, to create partnerships and systems that best support transfer students both as incoming students as well as during their time at LMU. Tom works very closely with each LMU college to ensure not only the matriculation and smooth transition of new students but also the successful completion of their LMU academic experience.
Kim Morton
Director of Transfer Recruitment & Retention Online & Transfer Services, Appalachian State University
In her role at Appalachian State University, Kim works with new and current transfer students in engagement and retention initiatives. She collaborates with campus partners to coordinate orientation and welcome weekend events as well as plans and hosts numerous transfer specific programming throughout the semester to help transfer students connect both socially and with campus support services in their new environment.
Cynthia Mosqueda
Faculty Coordinator, Counselor, Governor at Large-FACCC, First Year Experience Program, El Camino College
Cynthia is the faculty coordinator for the First Year Experience Program at El Camino College located in Torrance, California. El Camino College's FYE program has received accolades for exemplary program status through the Academic Senate for California Community Colleges and through the California Community College Chancellor's Office for outstanding contributions toward student success, transfer, and retention.
Questions About the Event?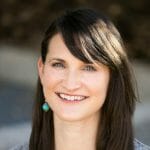 Kate Poisson
Program Manager, Academic Impressions