Become a more effective and inclusive leader.
Overview
This leadership bootcamp, spanning seven weeks and facilitated by experienced higher education leaders, provides you with a set of tools for applying the key tenets of successful and equitable leadership. You'll practice how to approach difficult and complex conversations through healthy and constructive dialogue so that you can increase trust, motivation, and engagement within your team. You will gain the confidence and skills needed to be a more effective leader in higher education, rooted in both a deeper awareness of your core purpose as a leader and in your commitment to equity.
Highlights of the program include:
Tips and Strategies from our Expert Instructors: You'll have the opportunity to practice the new skills you are learning alongside others in your cohort.
Leadership Assessment: Through Academic Impressions' 5 Paths to Leadership Self-Assessment, as well as individual assignments and group discussions, you'll discover how you show up as a leader in both typical circumstances and under stress.
1-on-1 Consultation: You will also receive a highly useful individual consultation session with one of the speakers, which will allow you to work through any questions or challenges you may be encountering. During this session, you will have the opportunity to discuss how you plan to implement the action steps you've identified.
Leadership Capstone: During our final session, you will share your leadership philosophy and commitments for the next steps in your leadership development.
A Highly Personalized Experience
A hallmark of the Academic Impressions bootcamp experience, the individual attention in this consultation will help you to apply best practices from the bootcamp to your leadership journey. To preserve the intimate and interactive nature of this training, the bootcamp is limited to 30 participants. Register early to reserve your spot!
Who Should Attend
This online program is highly beneficial for new or aspiring leaders who are:
In the early stages of a university or college leadership position.
Well-established in a leadership position but lacking formal leadership training.
Seeking a training experience that allows them to practice and hone their leadership skills over time and in the real world.
Follow Through With Success Coaching
Have you ever gone to a training only to find that you came back with great ideas but don't have the time, support, or skills needed to make the changes?
Academic Impressions has produced thousands of trainings and we have learned that utilizing a coach after attending a training helps provide accountability and bridges the training with the on-the-ground work of getting the job done.
As a result, we are now offering success coaching on select trainings.
Purchase this training + 3 one hour follow up success coaching calls
Work with an assigned coach who has extensive experience in higher ed.
Get individualized support to help you follow through on what you've learned.
Workshop your plans, run your ideas by someone and get additional help/practice.
To get success coaching, simply purchase the Bootcamp and add Success Coaching during registration.
Hear About the Bootcamp Experience
  June 21 - August 9, 2022 (Sold Out)
Individual Dates: June 21, 28, July 12, 19, 26, August 2, 9, 2022
Session 1 | Program Kick-Off: Defining Your Leadership Strengths (Leading Self)
Tuesday, June 21, 2022 | 1:00 – 4:00 p.m. ET
In this 3-hour kickoff session, you'll meet your cohort and the program faculty, unpack the features of the bootcamp, and dive right into the 5 Paths to Leadership Assessment to identify your strengths. The 5 Paths to Leadership Assessment will help you to understand ways of achieving greater balance among five forms of intelligence so that you can improve your overall effectiveness as a leader. This assessment will ask you to assess your leadership style under "normal" circumstances as well as under "stressful" ones. In order to get the most out of the bootcamp kickoff session, we ask that you please complete a 5 Paths Self-Assessment. You will be sent the link upon registering, and you can learn more about the assessment here.
---
Session 2 | Understanding Your Core Purpose as a Leader (Leading Self)
Tuesday, June 28, 2022 | 1:00 – 3:00 p.m. ET
To be an effective leader, you must first know what calls you to leadership. A deep understanding of your purpose, values, and beliefs is critical for self-aware and effective leadership. In this session, we'll work through various activities to help you detect and refine your core purpose and values, which will effectively become both the north star and anchor of your leadership approach.
---
Break – Week of July 4
---
Session 3 | Inclusive Leadership (Leading Self)
Tuesday, July 12, 2022 | 1:00 – 3:00 p.m. ET
In addition to your core purpose and values, how you identify along a range of social identities (such as gender, race, age, sexual identity, etc.) impacts how you view yourself, as well as how others perceive you as a leader. In this session, we will unpack how those identities impact power dynamics and define equitable leadership, and will practice embodying equitable leadership.
---
Session 4 | Time Management (Leading Self)
Tuesday, July 19, 2022 | 1:00 – 3:00 p.m. ET
Reflecting on both your core purpose and leading inclusively, you will now be able look at how to prioritize your duties as a leader by defining what is urgent versus what is important. We will also discuss how to delegate tasks that should be handled by other members of your team.
---
Session 5 | Coaching and Conflict (Leading Others)
Tuesday, July 26, 2022 | 1:00 – 3:00 p.m. ET
All too often, leaders will take action to resolve issues for their team members instead of empowering others to identify their own solutions. In this session, we will offer several proven techniques to help participants develop a "Coach, Don't Fix" mindset for leading individuals and teams.
---
Session 6 | Creating Equitable and Inclusive Spaces and Environments (Leading Others)
Tuesday, August 2, 2022 | 1:00 – 3:00 p.m. ET
We'll begin this session by helping you discover how your personal identity shapes the spaces you hold and the environments you help to create. We will practice critical communication skills (e.g., deep listening, genuine question probing, and suspending assumptions and judgments) in order to foster equitable and inclusive collaboration in a group setting. We will wrap up this session by identifying how to choose accountability partners who will provide honest feedback about the environments you create.
---
Session 7 | Leadership Capstone
Tuesday, August 9, 2022 | 1:00 – 3:00 p.m. ET
In this session, you will have the opportunity to discuss your Capstone project as well as the next steps in your leadership journey, and to connect with others in the cohort.
Steve Riccio
Lecturer on International Business and Management, Dickinson College
Steve joined the human resource services department at Dickinson in May 2006 following nine years in change management and human resources consulting. After establishing and leading the organizational development and employee wellness programs, he served as the associate vice president of his department from 2013 to 2015. He also taught as an adjunct professor from 2009 to 2015. In addition to teaching, he continues to consult with the college on a variety of human resource projects.
Dr. Bridget Turner Kelly
Associate Professor and Diversity Officer, College of Education, University of Maryland-College Park
Dr. Kelly is Associate Professor in the Higher Education, Student Affairs, and International Education Policy Program. Dr. Kelly is also Diversity Officer and Chair of the Council on Racial Equity and Justice in the College of Education at the University of Maryland. She earned her master's and Ph.D. degrees in Social Foundations of Education also from the University of Maryland.
Questions About the Event?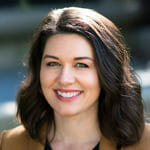 Jess Landis
Learning & Development Manager,
Academic Impressions