Without ongoing support and development, advisors may become disengaged. Here is how you can evaluate, energize, and engage experienced academic advisors.

by Sue Ohrablo, Ed.D., author of High-Impact Advising: A Guide for Academic Advisors
There are many resources devoted to the training and development of new advisors. However, once advisors are "up and running," it is easy to leave them on their own and assume that they are being effective in their role. Without ongoing attention, support, training, and development, advisors may become complacent and disengaged. Regardless of time on the job, these advisors may not be as effective as they could be and may jeopardize the overall success of the advising department. If you are an academic advising administrator, it is important to review the causes of this problem, conduct ongoing evaluation, and actively seek to re-engage your experienced advisors.
In this article, I will share:
3 reasons why academic advisors may become un-energized and disengaged
3 ways to evaluate the effective of your academic advisors
3 ways to re-energize and re-engage academic advisors
3 Reasons Why Academic Advisors May Be Un-energized and Disengaged
1. Lack of initial training and ongoing professional development
Advisors, like everyone else, don't know what they don't know. If they've never been exposed to formal training about policies, procedures, resources, and best practices in advising, they may not realize they are lacking skills and knowledge. When onboarding advisors, make sure to include content and activities that will help advisors develop informational, instructional, investigative, interpersonal, and integrative competencies. Invest in memberships in professional organizations and encourage participation in professional development. Emphasize the fact that academic advising is a profession which requires a defined set of skills and interests in order to be effective.
Related Article
Bootcamp for Academic Advisors: The New Skillsets
2. Lack of fit
Advisors are often diverse in their academic and professional backgrounds. While some apply intentionally for advising positions due to a passion for helping students, others may be promoted up through the system or be transferred into advising without choice. There is no one way to enter the field, nor a common understanding of what "advising" is. Some advisors may view an advising position as an entrée into higher education; they may have aspirations of becoming faculty or obtaining an administrative position. Hiring people who want to be advisors rather than those who view it as a stepping stone can help to minimize the incongruence between an individual's professional goals and institutional expectations of advisor effectiveness.
3. Counterproductive coping strategies
Let's face it. Advising is not an easy job. It is a highly demanding position which requires us to balance student traffic and administrative functions. Resources and personnel are tight and, as student loads increase, time becomes limited. As a result, experienced advisors develop practices that enable them to manage student traffic and complete tasks. These practices may include engaging in shortcuts, developing templates, and providing students with boilerplate information. Unfortunately, these strategies may benefit the advisor more than the students. By prioritizing their own need to "get it all done" over the needs of the students, experienced advisors run the risk of eliminating the individualized support and assessment that is critical to effective advising.
3 Ways to Evaluate the Effectiveness of Academic Advisors
1. Sit in on advising sessions
I encourage advising administrators to observe and participate in advising sessions for several reasons. Not only does it help you to keep current on student needs and issues, it also helps to identify each advisor's strengths and opportunities for growth. It allows you and your advisors to partner in delivering effective advising to students. When observing advising sessions, some things to look for include:
Is the advisor relying on an established "spiel" when conducting the advising session?
Is the advisor accurately "reading" the student's responses and addressing their needs?
Is the advisor providing the appropriate amount of information?
Is the advisor using tools to solve problems and anticipate needs?
2. Review written communication and notes
Advisors spend a great deal of time corresponding with students and colleagues via email and through notations in databases and student files. Use these written records to determine if advisors are investing energy into communicating with students and colleagues, or if they are engaging in cursory information exchange. Reviewing notes about advising sessions and student interactions will provide insight into the scope and nature of the advising that is provided to students. As you review these communications, evaluate the quality of advising and look for potential signs of trouble:
Is there evidence of comprehensive advising?
Are there hints of negativity or frustration?
Is the information accurate and timely?
3. Talk about advising with your advisors
By engaging your advisors in ongoing discussion about the practice of advising, you'll be able to get a sense of what's important to them, as well as how they view their role.
Do they view students as interruptions? (I knew an advisor who said just that. True story!)
Do they ask questions to develop a deeper understanding of policies and procedures?
Do they contribute to discussions about effective advising?
Do they complain about their job?
3 Ways to Re-energize and Re-engage Academic Advisors
1. Listen to your advisors
Advisors often experience frustration due to a variety of factors. As frontline personnel, they are expected to solve problems and assist students expediently and efficiently. However, they often lack authority to make exceptions or grant approvals, which may result in a sense of helplessness or anxiety. Waiting for others to make a decision or take an action can limit an advisor's effectiveness. Additionally, poor or inefficient systems and resources can contribute to advisor frustration and potential burnout.
Help advisors to focus on articulating legitimate concerns rather than expressing complaints
Maximize efficiency through development of systems, tools, and resources
Provide support and take action when needed
2. Provide control and encourage active engagement
Advisors who are not involved in decision-making or who are not asked for their input will soon take a passive role in the department. The more in control advisors feel, the more invested they will be in the successful operation of the advising unit and support of their students. Some strategies for promoting advisor engagement are:
Involve advisors in departmental planning and program development
Provide opportunities for peer mentoring and training
Share responsibility with advisors for developing and engaging in continuing education and professional development
Encourage exchange of best practices through shadowing, roleplay, and other interactive activities
3. Build on advisor skills and interests
Advising can become boring if you let it. Answering the same questions day in and day out, semester after semester can become tedious. Each semester pretty much looks alike, with orientation, registration, and degree conferral reliably marking progress through the term. This type of routine may foster advisor complacency and mediocrity. In order to re-energize your advisors, consider their skills and interests and encourage your advisors to use them. Assign projects and responsibilities accordingly:
Ask advisors with solid institutional knowledge to develop a repository of historical information
Assign highly detail-oriented advisors to oversee review of policies, procedures, and catalog changes
Engage advisors with strong interpersonal skills in training and coaching
Involve creative advisors in the development of programs, services, and resources
I encourage advising administrators to avoid equating experience with effectiveness. While experienced advisors, by nature, have accumulated a robust body of knowledge, they may not be applying that knowledge in a way that maximizes their contribution to the advising unit. Just as we engage in comprehensive developmental advising instead of taking a solely prescriptive approach in supporting our students, in the same way, we must strive to facilitate the growth and success of our experienced advisors.
_______________________________________________________

Photo above by Patrick Robert Doyle on Unsplash.
_______________________________________________________
Learn More
Related Article:
Are We Measuring the Impact of Advising the Right Way?
by Sue Ohrablo, Ed.D.
Related Conference:
Creating Consistency in Decentralized Advising Models
Virtual Conference | July 20-21, 2020
Get Sue Ohrablo's Book High-Impact Advising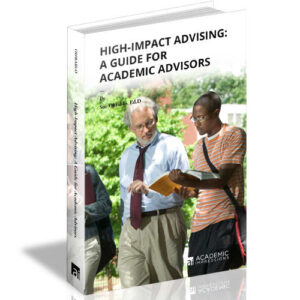 How can academic advisors provide high-quality developmental advising in the face of diminishing resources and increased commitments? We brought this question to Sue Ohrablo, a nationally recognized speaker with 25+ years of experience working with diverse institutions and student populations. In this 300-page, comprehensive training guide, Sue offers practical guidelines for academic advisors.
"I highly recommend that all academic advising professionals read High-Impact Advising: A Guide for Academic Advisors, as it will help them to enhance key skills needed to establish positive relationships with students, appropriately assess students' needs, effectively teach students, and efficiently provide high quality service."
Jacqueline T. Hollins, Assistant Vice Provost/Director of Academic Advisement, SUNY at Buffalo (UB)
"As a department leader in academic advisement, I would use Sue's book as a training resource and teaching mechanism for advisors. It allows advising professionals to understand today's complex environment of advising students, beyond just selecting courses."
Jake Shilts, Director, Advisement & Career Services, Miami Dade College
"Advisors will reap the benefits of this well-balanced, informative guide."
Shari Saperstein, Associate Dean, College of Undergraduate Studies, Nova Southeastern University
"A student-centered, informative, and practical approach. Dr. Ohrablo presents powerful guidelines geared towards student success for 21st century academic advisors. The handbook offers indispensable information and engaging scenarios that mirror real life college instances that students experience. A key resource tool for academic advisors and higher education professionals."
Dr. DeLaine Priest, Associate Vice President of Student Development and Enrollment Services, University of Central Florida