When training academic advisors at your institution, don't overlook the relational and interpersonal skills that make great advisors.

by Benjamin Forche, Academic Advisor, Patton College of Education, Ohio University,
Joe Murray, MSHR, Director of University Advising Services, Florida Atlantic University,
and Karen Thurmond, Director of Academic Advising and Degree Planning Resources, The University of Memphis
with Daniel Fusch, Director of Research & Publications, Academic Impressions
While many institutions provide technical and university-specific advisor training, the relational and interpersonal skills that make great advisors are often overlooked. After research in current theory on advisor skillsets for the twenty-first century, we reached out to three expert academic advising directors who bring both a deep knowledge of theory and a "from the trenches" perspective to the table. We asked them for this interview.
Q. How is the 21st century academic advisor skillset changing?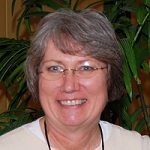 Karen Thurmond. This question may best be answered by defining 21st century academic advising. I have used the phrase to describe academic advising that contributes to student success by employing all the resources at our disposal. These resources include preparation in the form of advanced degrees that focus on academic advising as an academic and professional discipline (not available until this century), enhanced research activity in academic advising, and dedicated academic advising technology that has moved the profession from paper and pencil to predictive analytics.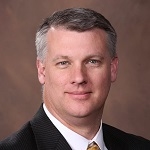 Joe Murray. Interesting question. I think the issue really is that for the most part, the skillset is not changing but our students are. If we as advisors do not change to meet our students where they are, the struggle to connect and relate to them is going to grow, and our ability to engage our students is going to continue to be a struggle.
So, what do we need to do to change our skillset?
First, we need to know and understand this generation and what motivates them, what they connect with, what has meaning for them, and what their goals are for their future. I will not go into this generation's profile here; that has been discussed and written about already in lots of places. To me, what is important is to take that general profile information and take the time to get to know each student as well as we can in the limited amount of time we have. The closest thing we have to a "magic bullet" to address twenty-first century student needs is relationship building. If we have that personal connection, we can "custom design" an education or advising experience that is meaningful to that student.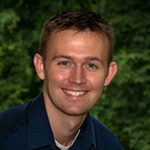 Benjamin M. Forche. I'd like to echo Joe's thought. Our students are coming to our institutions with far more responsibilities. There are still students who attend with their only focus being education, but often students have more responsibilities that pull them away from the classroom. The 21st century advisor must be mindful of this new student and adapt to provide the best guidance and support that will help the student. Guidance and advice needs to be realistic in the eyes of the student, not just the advisor.
Q. Could you tell us more about Habley and McClellan's framework for the advisor skill set?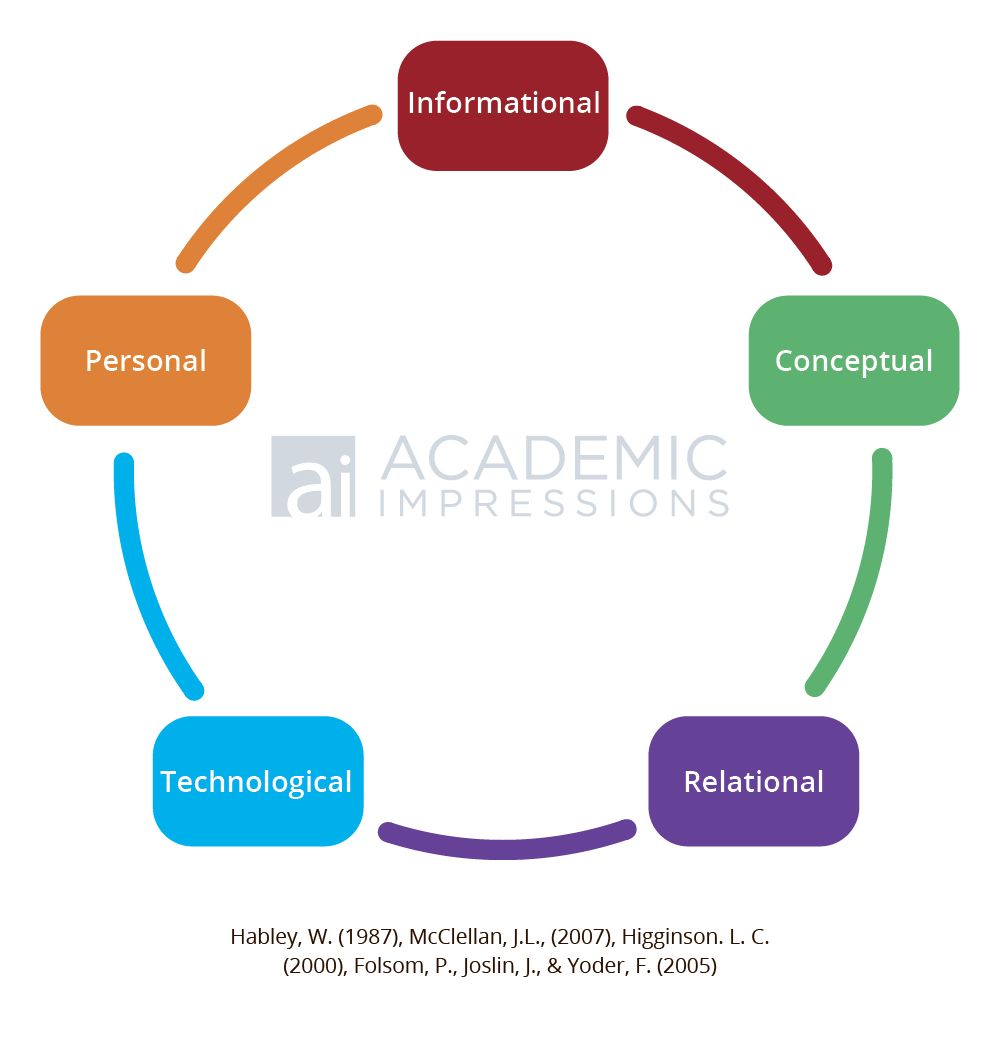 Karen Thurmond. Habley originally proposed that three components are required to properly orient new advisors to their work: Conceptual, Informational, Relational. McClellan revisits this proposal and adds Technological and Personal. In our work for the Advisor BootCamp, we will adapt this proposed model.
Joe Murray. Each step in the framework is equally important and supports the other four. Without each one, the effort to retain the student will fall short. The analogy I use is that of a basketball team. No single position is more important than another: the guard is not more important than the center, the center is not more important than the forward, and so on. Without all five positions, the chances of success diminish greatly. The same can be said for the framework.
What is also similar for both the basketball team and the framework is that the role of each position on the team and the role of each component in this framework will change depending on the situation, the needs of the participants, and the timing. For example, during course registration, the informational step could play a more expanded role as advisors seek to guide students through the very prescriptive exercise of reviewing graduation requirements, pre-requisites, and the mechanics of course registration.
In keeping with our analogy, the fundamentals of shooting a free throw mirror this prescriptive step. Consistency and technique are critical to be a successful free throw shooter, and some players are certainly better than others. At the end of a close game, those players who have mastered the free throw will have a greater value to the team.  During course scheduling time, the expertise of those who have a strong informational background will be sought out.
However, for students who are on midterm warning due to test grades and who now have to come in to discuss their poor performance, the relational skills may be more critical at this moment. If the student has not developed a strong positive relationship with their advisor, they will be more like to procrastinate, delay, or not come in at all, fearing the content of the conversation and its outcome. Having a strong, positive relationship with the advisor would help to alleviate those concerns and increase the likelihood of quicker action on the part of the student.
Benjamin Forche. I would like to add, if we get to a point in the advising relationship where a student does count us an ally, we need to go the extra mile when students come to us for help. We can easily close the door on a relationship if a student seeks us out for aid, and we turn them away because we do not know the answer. We may not know all the answers, but we had better go the extra mile in explaining to the student how we will help them find the answer. This extra step will help the student continue to see the advisor as a resource.
Q. Given these changing skillsets, what training needs do new advisors have?
Karen Thurmond. Those who train advisors are immediately challenged to take any training beyond the informational component. Without understanding the details of policy, procedure, and degree requirements, academic advisors will generally fail to assist students in a meaningful way. Without some additional professional skills, they will also fail to provide the sophisticated approach to degree completion, graduation, and life beyond the developmental tasks of college. Academic advisors need:
Strategic thinking about the data available on our campuses
Tools and methods for thinking beyond the "N" of one
High-level networking skills to capitalize on the knowledge of colleagues
interest in and understanding of the changing the mission of higher education
Benjamin Forche. As a newer director, I'm finding that most assume that all the training an advisor needs is on the systems or administrative processes and software. As Karen noted, while these facets of the job are important, not all advisors come from a background in student development theory. The relationship and ability to cultivate a positive and strong relationship with a student is arguably, just as important in helping a student reach ultimate success. And many advisors are not aware they are missing this crucial element of their job.
Joe Murray. As a director of an advising office of about 30 staff, I am constantly discovering new "opportunities" for training topics in each of the 5 parts of the framework. For example:
Informational: New university policy and practices related to performance-based funding
Conceptual: Training in Appreciative advising theory and best practices
Relational: Why relationship building is important and how to do it in a very short time frame - and aligning the office advising structure to allow the relationships to be built
Technological: Training on new tools, using old tools in new ways, and what can and cannot be recorded in student notes
Personal: How to manage a staff using the Appreciative framework to address the stresses and personal challenges we all bring to work with us
And of course, all of these topics need to be addressed through the lens of our students' needs, both traditional and non-traditional.
Q. If you could give one piece of specific advice for training and developing advisors, what would it be?
Karen Thurmond. Hire professionals who understand the research around academic advising, and challenge them to be accountable for student success. Faculty advisors have no less responsibility in the advising relationship than the any other professional in higher education, including primary-role academic advisors. Academic advising is not a role that can be added to the responsibilities of an already highly functioning and busy faculty member. If the role of academic advisor is a part of the faculty member's responsibilities, department chairs must take seriously the commitment this role requires. Support, development, and reward for faculty advisors cannot be ignored.
Joe Murray. Build an office culture that people look forward to joining, where people are excited to come to work and have to think twice before leaving. Of course, the real art of this is how.
Don't assume that "no news is good news." Do lots of listening and one-on one conversations. Work as hard to discover the needs of your staff as your staff is working to connect with their students.
Benjamin Forche. Again, I'd like to echo Joe. Spend the time and resources to develop a strong, diverse office staff and culture that is attractive to students. Be sure to find personnel with varying skills and abilities to create a more holistic and dynamic team. This is worth investing in; effective academic advising can challenge students to reach new heights and dreams they didn't think were possible.
___________________
Photo at the top by Green Chameleon on Unsplash.