New technologies in higher education continue to race forward, and—from teaching, to equity and inclusion, to the student experience—they are having a profound impact on all corners of campus life. However, despite their significance, there are few discussions spaces designed for enabling leaders to connect with one another, learn from others, and share ideas around how to best prepare and respond.
Join us for a free discussion-based series for discovering the technologies and trends impacting higher education across the country. You will learn about the basics of each technology and trend in order to fully understand its potential, as well as how to implement and evaluate each on your campus. In conversation with our panelists and your peers, you will explore questions like:
What committees or other initiatives are others proactively putting in place to better understand and prepare their institutions for technological advances?
What impact does new technology have on aspects like teaching and learning, equity and inclusion, cost, and learning outcomes?
What strategies are institutions employing to evaluate impact? How are faculty and students being supported in that evaluation?
The webcasts in this series will be available on a rolling basis throughout the year. Exact session titles and dates will continue to be added. Please check back frequently for updates!
This training is designed for higher ed leaders interested in anticipating and meeting the challenges of future technological trends, and who would like to hear how peers at other institutions across the nation are thinking about and addressing these issues.
Defining the Impact of the Metaverse in Higher Education
March 29, 2023 | 12:00 – 1:00 p.m. ET
Explore the potential of the metaverse in higher education.
Overview
Are you curious about the potential of virtual reality and how it may shape the future of education and work? Join us for a free webinar discussion to learn about the metaverse and its potential to revolutionize higher education. You'll gain insights from experts in the field who are navigating the metaverse firsthand and also learn about their cutting-edge experiences. Specifically, we'll explore the following questions:
How does VR enhance or augment the learning experience compared to traditional methods?
What are the challenges and limitations of using VR for education, and how can they be addressed?
How can VR be used to create immersive and interactive learning environments that promote student engagement?
How does the use of VR impact student achievement, and what kind of data or research supports these claims?
How are academic leaders supporting faculty and students in the metaverse?
Who Should Attend
This training is designed for higher ed leaders for whom the challenge of future technological trends resonates, and who would like to hear how peers at other institutions across the nation are thinking about and addressing these issues. 
Daniel Mintz
Chair Department of Information Technology, University of Maryland Global Campus
Mr. Mintz serves as the Department Chair for IT Technology within the School of Cybersecurity and Information Technology at the University of Maryland Global Campus (UMGC). In that role, he manages Graduate and Undergraduate Programs in Computer Science, Management Information Systems, Data Analytics, and Digital Media and Web Development. He also is responsible for an Immersive Pilot effort to explore adding Virtual and Augmented Reality educational content to UMGC courses.

Muhsinah L. Morris, PhD
Metaverse Director, Morehouse College
Meet the first ever Metaversity Director, Dr. Muhsinah Lateefah Morris. A BS chemistry graduate of the HBCU Clark Atlanta University. She obtained an MS & PhD from the Harvard of the South, Emory University in Biomolecular Chemistry. Dr. Morris has been part of and leading Morehouse's Metaversity project since the Spring of 2021. She's won awards for Teaching Excellence at Morehouse College, Best Emerging Technology and Innovation from CBRE, First Place Unconventional Innovation in Industry by T-Mobile, and Educator of the Year for 2022 by STEM Women Atlanta. She resides in McDonough GA with her husband and five sons.

Questions About the Event?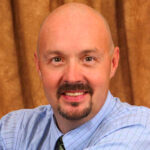 Steve Whitehead
Head of Practice for Academic Innovation,
Academic Impressions