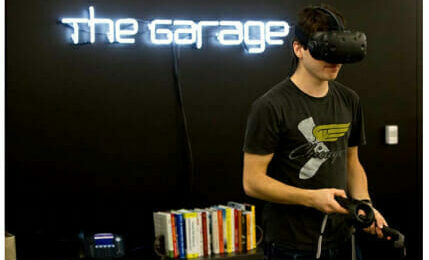 by Daniel Fusch, Academic Impressions
Listening recently to Melissa Kaufman, executive director of The Garage at Northwestern University (which incubated 147 start-ups in its first year), and David G. Broz and Todd Heiser, principals for Gensler, speak about academic incubators at our recent webcast (you can obtain a recording here), I was especially struck by the research showing the hunger for entrepreneurship among today's traditional-aged college students:
27% of millennials are already self-employed.
In 2011, millennials launched almost 160,000 start-ups per month.
According to the US chamber of commerce, 60% of millennials say they are interested in entrepreneurship.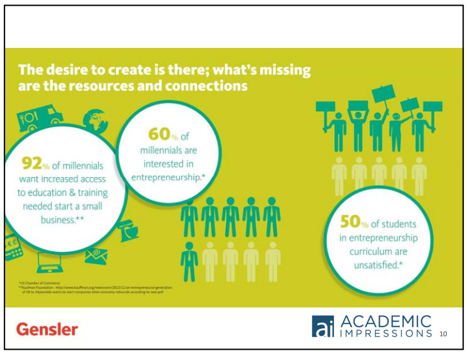 This generation of students has an entrepreneurial and creative spirit. We just need to create the spaces—innovation centers, makerspaces, academic incubators—that foster their learning and growth as young entrepreneurs.
Illustrating this, Kaufman describes the culture of Northwestern University before the institution converted a parking garage into The Garage, a central incubator for the campus: "Students were incubating in their dorm rooms, in their homes; faculty were connecting in classrooms and lab spaces. But there was no one space where all these people could connect. We needed a space where they could work on their schedule, that would be available 24/7 and where they could meet creative entrepreneurs from elsewhere on campus. We needed to give innovation on campus a home."
What is an academic incubator?
"We want to help students develop an entrepreneurial toolkit, but I don't believe you can do this in the traditional classroom. You need to create space for students to solve problems creatively, build a team, and develop and pitch surprising ideas and projects."

Melissa Kaufman, The Garage, Northwestern University
David Broz and Todd Heiser at Gensler note that originally, the first-generation incubators were owned by a particular department, driven by a particular entrepreneurial dean or department chair. But now, these have become a "Switzerland" on campus, where different disciplines meet and share resources and ideas. Maybe a freelance programmer and an engineer meet and create a wearable device; maybe a creative and a scientist meet.
An incubator is distinct from a traditional business accelerator like a shark tank, where venture capitalists fund a specific effort or innovation. Unlike an accelerator, an incubator is about creating the space for unexpected discoveries, for learning that no one can anticipate in advance. For this reason, it is an excellent fit for a university. The space is an opportunity for serendipity—bringing together students and researchers from different disciplines. According to Heiser, effective academic incubators both are a "mashup" where different disciplines can meet, and a "beta" space where students can experiment and share ideas: "Academic incubators accelerate serendipity and provide opportunities to learn from failures as well as successes. They merge 'garage' innovation with an academic and business foundation."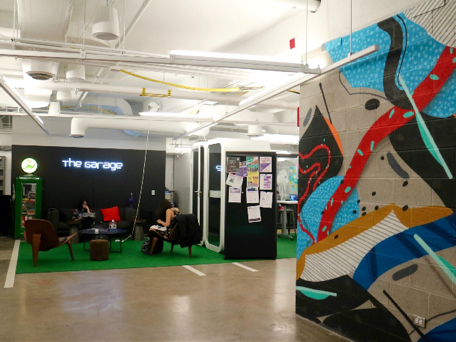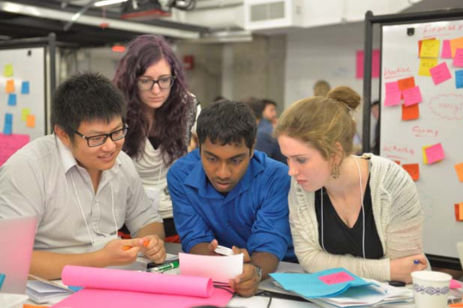 Images: The Garage at Northwestern University.
A key point Broz makes is that programming and design are both critical. If you design an innovative space, but don't design innovative programming—that is, if students left to use the space just as they would any traditional study or gathering space—then you're missing the opportunities. You need programming that encourages informed connections between disciplines, and design that supports and empowers that programming.
Flexible space is key to that design. You want movable furniture, rearrangeable spaces with fungible divisions. For example, Project X at Barclays in London uses rows of striking red helium tanks as fungible divisions; they can be moved as needed to divide up the incubator into different kinds of spaces. "The furniture can be hacked easily," Broz explains. "You want people to move it around." The students in the space define it and recreate it as needed for the activities occurring in that space. Academic incubators or innovation centers often include maker spaces where students can tinker with projects, and lots of open space where students can stand and confer, and places to workshop and brainstorm.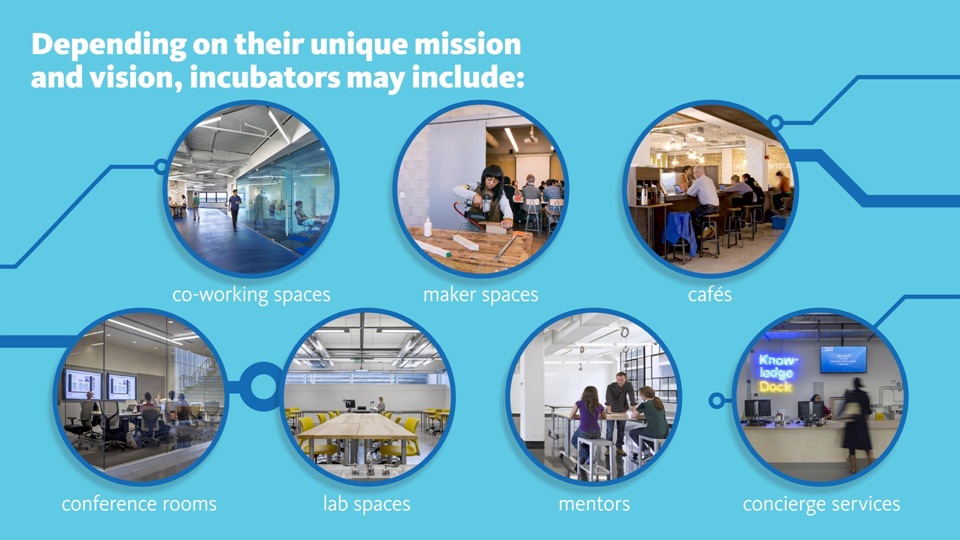 Academic incubators can include pitch spaces as well, comfortable "conference room" style spaces where students can pitch a creative idea to a faculty member, colleague, or representative of a local organization. Heiser also uses the 80/20 rule: 20% of the space should always be unspecified. "Don't create a totally finished space. Create the opportunity for students to get in there and make the space what they need."
When considering adding an innovation space to your campus, think about the kind of experience you want to see happen in that incubator—then design and program for that experience. "You want people to be relaxed in the space," Kaufman advises. "It should be casual and even a little whimsical; it should suggest and encourage the whimsy of unexpected invention and innovation. In The Garage, I wanted students to feel as though they were in Silicon Valley, without actually being there."
Where can you find examples?
Want to see examples of incubators in both academic and corporate spaces? Besides The Garage at Northwestern University, take a look at:
And join us in this recorded webcast for a comprehensive walkthrough and visual tour of modern academic incubators, and a deep "under the hood" look at The Garage ("where ideas are built") at Northwestern University.