With faculty and students both stressed during the pandemic, microaggressions may become more frequent in our online learning environment. Here are some practical strategies for mitigating the impact of microaggressions in online and remote classes.
by Dr. Tasha Souza, Associate Director for Inclusive Excellence for the Center for Teaching and Learning, Professor of Communication, Boise State University
Students are especially anxious right now given that their daily routine and expectations of college life have likely been completely derailed. Many have had to move, some to less safe and/or hospitable living environments, and all who were taking face-to-face classes have had to learn how to navigate a different learning and teaching space led by many instructors doing the same. When cortisol levels are high, we are less likely to self-monitor well and more likely to behave in ways that reveal and act upon our implicit biases. These biases can show up as written or oral microaggressions in online and remote spaces and can have a negative effect on the communication climate. Are you equipped to deal with them? When microaggressions occur in our learning environments, it is important that we respond in ways that maintain a supportive communication climate (Souza, 2017) and foster learning.
Before considering communication strategies for responding in the moment, it is important to reflect upon ways to mitigate the impact of microaggressions:
---
We hope you're enjoying this read. The full text of this article or report is complimentary for our Daily Pulse subscribers. Please login to read it!
ARE YOU A NEW READER?
Get hundreds of articles and reports like this one — Please sign up to have your Daily Pulse and other updates from Academic Impressions delivered to your inbox.
Daily Pulse is a curated email digest of practical strategies, timely research reports, and current events in higher ed. You'll also get periodic updates about our upcoming events and other services, as well as free access to hundreds of articles on this site.
We are excited to bring you the most critical updates and reports in higher education. Thank you for your interest!
_______________________________________________________
Image Credit: Photo by Sergey Zolkin on Unsplash.
More from Academic Impressions on Responding to Microaggressions
If you enjoyed this article, you may also interested in the new book Fix Your Climate: A Practical Guide to Reducing Microaggressions, Microbullying, and Bullying in the Academic Workplace. In this handbook, two leading experts on hierarchical microaggressions – Myron Anderson and Kathryn Young – present in-depth scenarios, strategies, and worksheets for addressing these issues on your campus.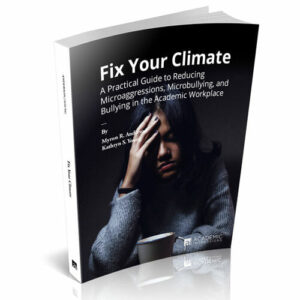 You might also be interested in these trainings: