While some colleges and universities are developing workplace bullying prevention programs (we'll list examples in a minute), it is evident that we have a lot of work yet to do. And this work needs to be done; unaddressed, workplace bullying impacts the processes of tenure and promotion, the collegiality of the department, and the academic freedom of its junior members. In this article, find out what a policy should include, and what institutions have existing policies you can learn from.

by Clara Wajngurt, Ph.D.
What is workplace bullying? By this term, we're referring to hostile behavior that includes repeated harrassment, physical harm, verbal abuse, or other conduct that is viewed as threatening, humiliating, intimidating, or sabotaging - behavior that interferes with the performance of the one who is being bullied. (See Namie & Namie, "Risk Factors for Becoming a Target of Workplace Bullying and Mobbing," in M. Duffy and D. Yamada, Workplace Bullying and Mobbing in the United States, Santa Barbara, CA: Praeger Press, 2018, 1-17.)
These are the characteristics of workplace bullying:
Repetition - persistent ongoing nature over a period of time.
Systematic - showing or involving a method or plan.
Risk to health and safety - refers to a risk to the emotional, mental or physical health of person) (s) in the workplace.
Imbalance of power - a person (generally the bully) may use one's position or physical dominance over those perceived to be weaker.
Difference/standing out - the target is perceived to be new or different from the rest of the group in the workplace.
Perceived threat - the target is perceived as being a threat to the bully.
Unwanted/unreasonable behavior - behaviors (on the part of the bully) that interfere with one's work responsibilities.
What Workplace Bullying Looks Like in Higher Ed
Imagine the following scenarios of how workplace bullying manifests itself in an academic setting.
SCENARIO A
A unit director submits work to a vice president who makes comments that discredit or devalue the work of the director. The vice president criticizes the director, shows a lack of patience, and fails to demonstrate, in a sensitive, professional manner, how to proceed.
SCENARIO B
A faculty member in the professorial ranks makes cruel, insulting comments at a department meeting about an untenured faculty member's "psychological problems."
SCENARIO C
In the performance review of a faculty member who is up for promotion, the department chair undermines the faculty member's professional standing, does not identify reasonable means for improvement, and ignores the faculty member's contributions to the department.
---
We hope you're enjoying this read. The full text of this article or report is complimentary for our Daily Pulse subscribers. Please login to read it!
ARE YOU A NEW READER?
Get hundreds of articles and reports like this one — Please sign up to have your Daily Pulse and other updates from Academic Impressions delivered to your inbox.
Daily Pulse is a curated email digest of practical strategies, timely research reports, and current events in higher ed. You'll also get periodic updates about our upcoming events and other services, as well as free access to hundreds of articles on this site.
We are excited to bring you the most critical updates and reports in higher education. Thank you for your interest!
____________________
Clara Wajngurt has written many peer-reviewed articles on workplace bullying prevention and has written two books on this subject. Her educational background includes a BS in both Mathematics and Psychology from City College of New York and a Doctorate in Algebraic Number Theory from City University of New York Graduate School. She has conducted many workshops at the college in math anxiety and in the encouragement of more diverse groups to enter STEM fields. She has also observed many unfortunate instances of workplace bullying in her university where she is proactive to prevent workplace bullying on her campus both amongst faculty and staff and students.
____________________
Image Credit: Photo by Nik MacMillan on Unsplash.
Fix Your Climate
If you enjoyed this article, you may also interested in the new book Fix Your Climate: A Practical Guide to Reducing Microaggressions, Microbullying, and Bullying in the Academic Workplace. In this handbook, two leading experts on hierarchical microaggressions – Myron Anderson and Kathryn Young – present in-depth scenarios, strategies, and worksheets for addressing these issues on your campus.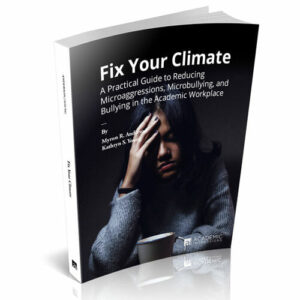 You might also be interested in these recorded webcasts: