Higher education is the engine that drives upward mobility. Help first-generation college students succeed.
Many college campuses are finding that their first-generation (first-gen) student population has grown exponentially in the past five years with some reporting 24-30% of their student body identifying as first-gen. Unfortunately, only about 20% of this population graduate with a degree within 10 years. Because so many first-gen students are also low-income, this is especially disheartening as this means many students are taking on debt without obtaining their degree.
This conference is designed to give you a wide variety of tools to best address the challenges your first-gen population faces and to give them the best chance at success.
NOTE: We encourage participants to bring samples of your first-gen "swag" or other communications for a crowd-sourced idea table as we discuss how to identify and celebrate first-gen faculty and students on your campus.
Learn how to create an engaging first-year experience to help guide first-gen families through the college transition by attending our webcast, Engaging First-Gen Families to Drive Student Success.
Program Format
Throughout these three days, we will examine comprehensive models of how institutions help their first-gen students succeed on campus and complete their degrees. The speakers bring a diverse set of perspectives from each of their unique institutions. You will learn what makes each program exceptional and successful, and you will have opportunities to begin creating or improving your own support system for first-gen students.
Who Should Attend
This program is ideal for professionals who offer academic support to first-gen students and/or lead student success initiatives. In addition, we recommend that leaders from the following areas attend:
Academic Affairs

Student Affairs

Enrollment Management

Admissions

Agenda
Your registration fee includes full access to all conference sessions and materials, access to the networking reception on Wednesday, breakfast and lunch on Thursday, and breakfast on Friday, as well as refreshments and snacks throughout the conference.
DAY ONE
12:30 - 6:00 p.m.
Registration, Welcome, and Introductions
In this introductory activity, you will have a chance to articulate the importance of first-gen success on your campus and how it supports your institution's overall mission.
---
Pre-Arrival: Setting the Stage for First-Generation Success
Setting up first-gen students for success begins before they step foot on campus. In this session, you will learn how institutions have provided programs prior to the first semester that helped these students to connect to their new environment and prepare for the exciting journey ahead of them. Our experts will give you insights to the organizational structure of current first-gen support programs and how their alignment helps the program to be successful and efficient.
---
College Knowledge: Helping First-Gen Students Acclimate to Academia
One of the more nuanced challenges that many first-gen students face is how to acclimate to college. Being the first in your family to go to college is an exciting and admirable accomplishment. However, many of these students find themselves missing a "hidden curriculum" that can include how to study and manage time, how to access resources, how to interpret college jargon, and how to be involved and get the most out of the college experience. This session will highlight successful programs that have shown a positive impact on first-gen students acclimating to college.
---
Working Session and Day 1 Close
As we conclude our first day together, you will have an opportunity to prioritize your challenges with first-gen student success. We will identify themes that will be threaded into the remaining sessions of the conference. The speakers will be available for consulting and discussion. We will finish the day by sharing ideas and preparing for Day Two.
---
Networking Reception
This informal reception is your chance to decompress, have a drink on us, and expand your network of connections. Our programs are intentionally designed for smaller groups, which means you will have the opportunity to meet your peers and our speakers face-to-face.
---
DAY TWO
8:30 a.m. - 4:30 p.m.
Engaging and Celebrating First-Gen Students and Faculty
Institutions often struggle to support first-gen students as many of them hide their status or are unaware that they may qualify as first-gen. By helping students to self-identify, your student support teams are better able to connect them with first-gen faculty, alumni, and other students. Hearing from others who have had similar experiences and learning how they coped and dealt with various difficult challenges can be the catalyst the first-gen student needs to feel valued and understood and to complete their degree successfully.
---
Providing Academic Support for First-Gen Students
From providing provisional admission with support to reducing time to degree completion, institutions that are successful with first-gen students provide a myriad of resources that engage and support students. Our experts will share examples of successful programs that have provided academic support to help first-gen students overcome hurdles and obtain their degree.
---
Working Session: Engaging First-Gen Students and Providing Academic Support
You will have an opportunity to workshop what you have learned during the morning sessions and consider how you might adopt or adapt similar practices. The speakers will be available for discussion and consultation.
---
Connecting Families of First-Gen Students to the Institution
One of the keys to retaining first-gen students is to also make the family feel welcome on campus. We will discuss how to engage parents as partners in student success and how to help both the student and the family through this transition, including: creating activities that help to bridge cultural gaps, including parents in on-campus activities, and giving students tools for communicating about their college lives.
---
Assessing the Impact of Your First-Gen Support Program
In this session, you will see how institutions have gathered data on the impact of their first-gen support programs. You will also learn how these data-points are used to articulate needs for additional programming and resources.
---
DAY THREE
8:30 a.m. - 12:00 p.m.
Broadening Career Considerations for First-Gen Students
Many first-gen students may not have a broad understanding of the variety of industries or job options available upon graduation. In this session, you will hear how other universities have helped first-gen students explore the many possibilities for careers and make informed decisions about their degrees. You will also learn how students can tap into their existing strengths in order to be prepared for an uncertain future.
---
Building Resiliency in First-Gen Students
First-generation students often face unique challenges in college: lack of financial support, lack of family support, not acquainted with a campus environment, racial marginalization, lack of guidance, feelings of being overwhelmed. This this group may be particularly prone to feelings of anxiety and depression, and may not even be aware of the resources available to them. This session will give you ideas for how institutions have created programs that support mental wellness for first-gen students.
---
Final Working Session, Conference Wrap Up, and Evaluations
This final working session will allow you time to plan your first action steps upon returning to campus. You will share and get feedback from your peers and the conference speakers. We will also tie these action steps back to the priorities you identified in the introductory session.
Cynthia Mosqueda
Faculty Coordinator for the First Year Experience Program
El Camino College
Cynthia has received the First Year Advocate Award from the National Center for First Year Experience and Students in Transition for her work in helping first-year students transition into college life.
Julie Nash
Vice Provost, Undergraduate Studies and Student Success
University of Massachusetts Lowell
Julie's mission in her role is proactive outreach to academically struggling students, especially first year students, by collaborating across colleges and student success centers. U Mass Lowell's new River Hawk Rising Scholars is dedicated to first-gen success.
Daphne Rankin
Associate Vice Provost for Strategic Enrollment Management
Virginia Commonwealth University
Daphne has extensive experience in student transition, retention, and success. Her team at VCU have developed resources for first-year students and parents with their online course, Beyond Orientation: Partnering for Success in Today's University.
La'Tonya Rease Miles
Director, First Year Experience & Strategic Initiatives
UCLA
La'Tonya "LT" works collaboratively with Residential Life, Student Affairs departments more generally and academic departments campus-wide to develop initiatives and to increase awareness of the first-year experience on campus.
$295
Purchase the conference binder, which includes all presentation slides, worksheets, action plans, and additional resources.
Note: Conference attendees do not need to purchase materials separately.
Questions About the Event?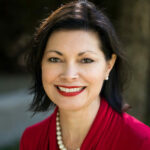 Elizabeth Ross Hubbell
Senior Program Manager, Academic Impressions