Learn tried and true strategies, as well as hear about new work being done during the pandemic to support first-generation student success.
Overview
Many college campuses are celebrating that their first-generation (first-gen) student population has grown exponentially in the past five years with some reporting 24-30% of their student body identifying as first-gen. At the same time, we know that institutional and external barriers can create roadblocks on the path toward graduation. This year, The Student Experience in the Research University (SERU) Consortium found that first-gen students are "more likely than continuing-generation students to experience financial hardships during the pandemic".
This virtual conference is designed to give you a wide variety of tools to best support your first-gen population and give them the best chance at success. This year, our speakers will highlight how they have been responsive to the specific needs of first-gen students throughout the pandemic. They will also discuss the strengths that first-gen students bring to our campuses and address ways that institutions can proactively meet first-generation students where they are. You will learn how to:
Take an intersectional approach to break down barriers to academic success
Create connections with families to foster holistic student support
Build a network of career resources to help students navigate an uncertain job market
Program Format
Throughout these three days, we will examine comprehensive models of how institutions help their first-gen students succeed on campus and complete their degrees. The speakers bring a diverse set of perspectives from each of their unique institutions—ranging from Community Colleges to Public Research Universities. You will learn what makes each program exceptional and successful, and you will have opportunities to begin creating or improving your own support system for first-gen students.
Who Should Attend
This program is ideal for professionals who offer academic support to first-gen students and/or lead student success initiatives. In addition, we recommend that leaders from the following areas attend whether from community colleges or four-year institutions:
Academic Affairs
Student Affairs
Enrollment Management
Admissions
Limited Attendance
In order to ensure a high-quality learning experience, we have intentionally designed this Virtual Training to have a limited number of total attendees. To ensure access from both paying participants and also from those who have an All-Inclusive membership, when the membership cap is reached, only paying participants can register after that point (while spaces are still available). If you have questions about whether this program is right for you, please contact us.
As the coronavirus pandemic unfolds nationally, it is so important to keep connecting and networking with your peers - at a "social distance" - and to keep learning and developing as higher-ed leaders and professionals. Don't let social distancing and quarantines prevent you from setting aside time for professional development. Everything is changing so fast; more than ever, we need to be pooling our resources and knowledge and finding the best ways to develop our capacity, connect and share with each other, and move forward during a challenging time.
The Academic Impressions Virtual Conference Experience
Our virtual conferences go far beyond just replicating PowerPoint presentations online: these new programs are intentionally designed to give you the kind of robust and dynamic learning experience you've come to expect from Academic Impressions. As higher education strives to adapt rapidly to the shifting crisis, connecting with your peers who are experiencing similar challenges can be the best use of your professional development time.
What you will get:
A dynamic, interactive, and high-touch virtual learning experience designed to engage and set you up for growth
Seamless online face-time, networking, group work, and Q&A opportunities from the comfort of your own workspace
Practical takeaways and hands-on knowledge
Unlimited access to all recorded online sessions
Access to an online conference hub — one-stop shop for presentation materials, attendee introductions, worksheets, supplemental reading, videos, and other resources
See What Our Attendees are Saying
"At first, I was skeptical that a virtual conference was capable of being both engaging and informational - but Academic Impressions has mastered it! The 3-day online event was structured in a creative way that all participants had multiple opportunities to interact with each other and the presenters. No one's questions went unheard or unanswered. Thank you for this great experience, it has changed my view of virtual conferences and I look forward to attending more in the future."
- Desiree Ford, Digital Communications Manager, Binghamton University
"The virtual conference has been amazing. The presenters have all been great and the information they've provided is going to help us better use our social media. Even though this conference had to be virtualized due to COVID-19, the online format has been set up in a way that we can all collaborate and share ideas. I'm very eager to take what I've learned back to campus and start implementing new ideas."
- Chris Forde, Coordinator of Marketing & Public Information, Lincoln Trail College
DAY ONE
(All times in Eastern)
Meet & Greet
11:30 a.m. - 12:00 p.m.
You will have a chance to articulate the importance of first-gen success on your campus and how it supports your institution's overall mission while connecting with attendees.
---
Welcome and Introductions
12:00 - 12:15 p.m.
---
The Importance of an Intersectional Approach: Supporting Black First-Gen Students
12:15 - 1:15 p.m.
While there are common experiences first-gen students may have, it is important to recognize the vast diversity among first-gen students and their needs. In this session, we'll examine an intersectional approach to celebrating and supporting first-gen students with a special focus on strategies to support the success of Black first-gen students in the context of both the pandemic and racial injustice. While this opening session is dedicated to an intersectional approach, this lens will be woven throughout the entire program.
---
Break
1:15 - 1:30 p.m.
---
Pre-Arrival: Setting the Stage for First-Generation Success
1:30 - 2:30 p.m.
Setting up first-gen students for success begins before the first day of class. In this session, you will learn how community colleges and four-year institutions have provided programs prior to the first semester that helped these students to connect to their new environment and prepare for the exciting journey ahead of them. Our experts will give you insights to the organizational structure of current first-gen support programs and how their alignment helps the program to be successful and efficient.
---
Break
2:30 - 3:00 p.m.
---
College Knowledge: Helping First-Gen Students Acclimate to Academia
3:00 - 4:00 p.m.
One of the more nuanced challenges that many first-gen students face is how to acclimate to college. Being the first in your family to go to college is an exciting and admirable accomplishment. However, many of these students find themselves missing a "hidden curriculum" that can include how to study and manage time, how to access resources, how to interpret college jargon, and how to be involved and get the most out of the college experience. This session will highlight successful programs that have shown a positive impact on first-gen students acclimating to college.
---
Day 1 Wrap-Up and Networking Session
4:00 - 4:30 p.m.
As we conclude our first day together, you will have an opportunity to prioritize your challenges with first-gen student success. We will identify themes that will be threaded into the remaining sessions of the conference. The speakers will be available for consulting and discussion. We will finish the day by sharing ideas and preparing for Day Two.
---
DAY TWO
(All times in Eastern)
Sign-In
11:50 a.m. - 12:00 p.m.
---
Day 2 Opening Remarks
12:00  - 12:15 p.m.
---
Engaging and Celebrating First-Gen Students and Faculty
12:15 - 1:15 p.m.
Institutions often struggle to support first-gen students as many of them hide their status or are unaware that they may qualify as first-gen. By helping students to self-identify, your student support teams are better able to connect them with first-gen faculty, alumni, and other students. Hearing from others who have had similar experiences and learning how they coped and dealt with various difficult challenges can be the catalyst the first-gen student needs to feel valued and understood and to complete their degree successfully.
NOTE: We encourage you to share examples of your first-gen "swag" or other communications when we discuss how to identify and celebrate first-gen faculty and students on your campus.
---
Break
1:15 - 1:30 p.m.
---
Providing Academic Support for First-Gen Students
1:30 - 2:30 p.m.
From providing provisional admission with support to reducing time to degree completion, institutions that are successful with first-gen students provide a myriad of resources that engage and support students. Our experts will share examples of successful programs that have provided academic support to help first-gen students overcome hurdles and obtain their degree, as well as new strategies they've had to implement to support students facing challenges during the pandemic.
---
Break
2:30 - 3:00 p.m.
---
Working Session: Engaging First-Gen Students and Providing Academic Support
3:00 - 3:30 p.m.
You will have an opportunity to workshop what you have learned during the morning sessions and consider how you might adopt or adapt similar practices. The speakers will be available for discussion and consultation.
---
Connecting Families of First-Gen Students to the Institution
3:30 - 4:15 p.m.
One of the keys to retaining first-gen students is to make the family feel welcome and connected to the student's educational experience. We will discuss how to engage parents as partners in student success and how to help both the student and the family through this transition, including: creating activities that help to bridge cultural gaps, including parents in activities, and giving students tools for communicating about their college lives. Our speakers will share the evolving family challenges students face as they navigate a socially distanced college experience and remote learning.
---
Day Two Wrap Up
4:15 - 4:30 p.m.
---
DAY THREE
(All times in Eastern)
Sign-In
11:50 a.m. - 12:00 p.m.
---
Day 3 Opening Remarks
12:00 - 12:15 p.m.
---
Assessing the Impact of Your First-Gen Support Program
12:15 - 1:15 p.m.
In this session, you will see how institutions have gathered data on the impact of their first-gen support programs. You will also learn how these data-points are used to articulate needs for additional programming and resources.
---
Break
1:15 - 1:30 p.m.
---
Broadening Career Considerations for First-Gen Students
1:30 - 2:45 p.m.
Many first-gen students may not have a broad understanding of the variety of industries or job options available upon graduation. In this session, you will hear how other universities have helped first-gen students explore the many possibilities for careers and make informed decisions about their degrees. You will also learn how students can tap into their existing strengths in order to be prepared for an uncertain future.
---
Break
2:45 - 3:00 p.m.
---
Final Working Session
3:00 - 3:30 p.m.
This final working session will allow you time to plan your first action steps upon finishing the conference. You will share and receive feedback from your peers and the conference speakers. We will also tie these action steps back to the priorities you identified in the introductory session.
---
Final Questions, Conference Wrap Up, and Evaluations
3:30 - 4:00 p.m.
Cynthia Mosqueda
Faculty Coordinator for the First Year Experience Program, El Camino College
Cynthia has received the First Year Advocate Award from the National Center for First Year Experience and Students in Transition for her work in helping first-year students transition into college life.
Julie Nash
Vice Provost for Academic Affairs, University of Massachusetts Lowell
In her current role, Julie oversees retention and student success, curriculum, and accreditation. Prior to serving as vice provost, she served as Associate Dean for Undergraduate Studies in the College of Fine Arts, Humanities, and Social Sciences; as Honors Director; and as Gender Studies Director.
Daphne Rankin
Associate Vice President for Summer Studies and Special Programs, Virginia Commonwealth University
Daphne has extensive experience in student transition, retention, and success. Her team at VCU has developed You First at VCU, a network of programs and initiatives for first-generation students that addresses academic success, social integration, and family support.
La'Tonya Rease Miles
Director, First Year Experience & Strategic Initiatives, UCLA
La'Tonya "LT" works collaboratively with Residential Life, Student Affairs departments more generally and academic departments campus-wide to develop initiatives and to increase awareness of the first-year experience on campus.
Questions About the Event?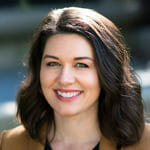 Jess Landis
Program Manager, Academic Impressions
*There are limited spots available for All-Inclusive Members to register for Virtual Conferences for free in 2020. Each virtual conference has a registration cap in order to ensure a high-quality learning experience, personalized attention, networking and interactivity. If the cap has been met, All-Inclusive Members can register with a $250 discount if space is available.
Academic Affairs, Advancement/Alumni Relations, Enrollment Management, and Student Affairs members will continue to receive $100 off conference registrations, if applicable. Upgrade your membership to qualify for a higher discount.
Please note the member discount is not applicable on conference binders or success coaching.