Learn how your two-year institution can best use your agility and unique strengths advantageously.
Overview
The pandemic coupled with economic hardship has created an enrollment shortfall for many community colleges. In many cases, those who were planning on attending this fall find themselves out of work, working additional hours, and/or grappling with childcare/homeschooling challenges. During this two-hour recorded discussion, you will hear about some of the barriers students are experiencing and how community colleges are pivoting to meet their needs.
Who Should Attend
This free recording will benefit leaders of two-year institutions at multiple levels and across functional areas.
Agenda
This recorded session will feature discussions around the following topics (the questions listed are illustrative and not exhaustive):
How are institutions rethinking messaging, enrollment management processes, and retention efforts?
As the "community's colleges," how are you helping your communities recover during this unique time period?
What are curriculum considerations for this new COVID19 world?
Have new partnerships emerged at your colleges as a result of COVID19? How might those be leveraged for future work together?
Before accessing this free recording…

Please sign up first for future updates from Academic Impressions.
Bruce Kusch
President, Ensign College
Bruce became the 13th President of LDS Business College in Salt Lake City, Utah on April 17, 2017. Prior to his appointment as president, he served as Chief Academic Officer beginning in March 2016. During his tenure, he has implemented significant change in the college's learning and teaching framework, resulting in increased student satisfaction and performance across a variety of academic disciplines. In addition, Bruce has fostered the creation of deep employer engagement relationships, providing graduates with improved employment opportunities.
Nicholas Neupauer
President, Butler County Community College
Nicholas has served as president of Butler County Community College since 2007. His presidency at a single institution exceeds that of any current chief executive officer among Pennsylvania's 14 community colleges, 14 State System of Higher Education universities, and four state-related institutions. 
Yves Salomon-Fernandez
President, Greenfield Community College
Yves previously served as president of Cumberland County College in New Jersey and interim president of MassBay Community College. In her career in higher education, Yves has served at large and medium-sized selective private and public universities, as well as open access colleges in urban, suburban, and rural settings in the United States. She has also been an adjunct professor at the undergraduate, Master's, and doctorate levels. Internationally, Yves has served with the United Nations in Mexico and as a consultant for the Bermuda Ministry of Education.
Questions About the Event?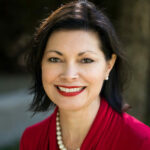 Elizabeth Hubbell
Senior Program Manager, Academic Impressions