Use a tool to assess your current presidential voice and identify areas of strength and opportunities for growth.
To represent your institutional brand in the best possible way, it's crucial that your president maintains an authentic and consistent tone of voice. If you are looking to improve and optimize your presidential voice, you must first identify and assess your current tone. We invite you to join this webcast to do just that. In this practical online training, you'll learn how to:
Amplify your leader's voice in the best possible way for your institution

Tactfully critique the presidential voice by using a framework and strategies to guide you through a potentially difficult conversation
You will gain access to a practical, downloadable tool to help you with the assessment of your presidential voice based on five key criteria that you can utilize when sharing feedback with your institutional leadership.
If you're looking to take a deeper dive into crafting and refining your presidential voice, we will soon post details for our upcoming program, Developing Presidential Voice: Strategies for Communications and Marketing Teams.
Who Should Attend
This webcast will be beneficial to those in higher education marketing, communications, and/or public affairs professionals who are looking to partner with their president to develop and refine presidential voice.
Agenda
Our speaker, Binti Harvey, will introduce the presidential voice rubric and walk us through the dimensions that presidential voice should be assessed for:
Culture

Context

Consistency

Clarity & Tone

Character & Alignment
Along the way, she will share how to identify both strengths and opportunities for growth in your president's communications and provide ideas and strategies to help you amplify the voice of your institution's leader.
Instructor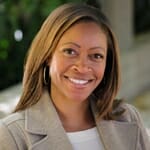 Binti Harvey
Vice President for External Relations and Institutional Advancement, Scripps College
Ms. Harvey brings 20 years of experience in journalism, strategic communications, branding, public affairs, and organizational development to her role as vice president of marketing and communications at Scripps College, a prestigious women's and liberal arts institution and a member of the Claremont Colleges. She is responsible for stewarding Scripps' brand and increasing its visibility through strategies that incorporate marketing campaign development and execution, executive communications, public relations, and public programs. Prior to Scripps, she led the design and implementation of institutional branding and fundraising marketing strategies for the California Institute of Technology.
Ms. Harvey's career encompasses more than a decade of legislative affairs, public relations, and community engagement experience in political and governmental organizations. As a political aide, she led advocacy and strategic communications initiatives for the Mayor of Los Angeles and the Superintendents of the Los Angeles and Pasadena Unified School Districts. She began her career in journalism as a business reporter for CBS MarketWatch.
Questions About the Event? Email this event's Program Manager, Kate Poisson.
Product Information
What's included in your purchase?
Webcast recording – a recording of our live session that you can access anywhere, anytime.
For more details about this product, please visit our Product FAQs.