Discuss new ideas for how to grow your academic programs and stay competitive.
Overview
As we begin to emerge from the COVID-19 pandemic, we find ourselves operating in a higher education environment that is fundamentally changed. Challenges such as declining revenue and enrollments were accelerated by the pandemic, and many institutions have suffered real short-term financial and operational setbacks in the shift to remote learning. In an aim to stay competitive and continue to move their institutions forward against this complex backdrop, academic leaders are now focusing on questions like the following:
What are the most important considerations when thinking about academic program growth?
How are others innovating and thinking differently about their academic program mix?
How has the pandemic changed processes and decision-making around academic programs at other institutions?
What are other institutions currently doing that is resonating within the marketplace and what are they planning?
Join us online for a 90-minute panel discussion to explore these and other related questions. Through structured dialogue with our panelists and your peers, you'll leave with new ideas and a better understanding of how other leaders are growing and shaping their academic program portfolios in a post-COVID era.
Who Should Attend
This discussion has been designed primarily for academic leaders at the Dean level and above. Other institutional leaders from areas like finance, enrollment, and marketing who are involved in decision-making about academic program growth will also benefit.
The Academic Impressions Online Learning Experience
Intentionally Designed
Online Learning
Our virtual trainings go far beyond just replicating PowerPoint presentations online: these experiences are intentionally designed to give you the kind of robust and dynamic learning experience you've come to expect from Academic Impressions. These trainings provide you with an active learning environment and an online space where you can explore ideas, get inspired by what your peers are doing, and understand the range of possibilities around a certain topic. You will leave these sessions with practical solutions that you can take back to your team or task force.
What you will get:
A dynamic, interactive, and high-touch virtual learning experience designed to engage and set you up for growth
Seamless online face-time, networking, group work, and Q&A opportunities from the comfort of your own workspace
Practical takeaways and hands-on knowledge
Guidance from vetted subject matter experts
Unlimited access to all recorded online sessions
The moderator for this event will be:
Melissa Morriss-Olson, Ph.D.
Provost Emerita, Founding Director, CHELIP and HELOS, Distinguished Professor, Higher Education Leadership
Melissa Morriss-Olson currently serves as provost at Bay Path University, a 3,300 student women-focused institution located in Longmeadow, Massachusetts. As provost, she serves as the institution's chief academic officer and also oversees admissions, enrollment marketing and analytics, student life and athletics, institutional research and all academic research and support functions.
The Center for Higher Education Leadership and Innovative Practice (CHELIP) exists as Bay Path University's living laboratory and learning hub for higher education innovation, inviting research, scholarship, collaboration and the incubation of bold ideas. For more information on CHELIP, click here.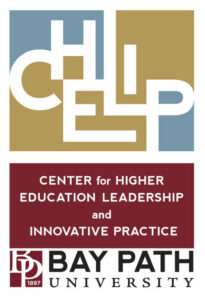 Bay Path University also offers a doctor of education degree option in higher education leadership and organizational studies (HELOS) that is on the forefront of preparing professionals with the innovative mindset that is needed for higher ed's disruptive climate. For more information on the HELOS program, click here.
The Panelists for this event will be:
William Clements, Ph.D.
Vice President and Dean of the College of Graduate and Continuing Studies and Professor of Criminal Justice, Norwich University
William has been involved in bringing Norwich's curriculum to the online environment and in developing new continuing and distributed education programs serving students in several fields, particularly for the military. He currently leads 24 degree programs and six certificate programs for over 1,600 students in the university's online programs. Norwich University also serves a significant proportion of military students as one of the U.S. Senior Military Colleges, and birthplace of ROTC.
Gordon Jones
Founding Dean, College of Innovation + Design (CI+D), Boise State University
In his current role, Gordon is tasked with innovating new degrees, certificates, and experiences born out of the best faculty, student, and community input to ensure the growth and value of a Boise State education. The goal of the CI+D is to incubate the most innovative and exciting ideas facing Boise State and higher education today, from new cross-disciplinary majors to new courses designed to build skills employers demand to re-imagining the future of a university.
Elizabeth Fleming, DA
Associate Provost and Dean, School of Education, Human and Health Sciences, Bay Path University
A nationally recognized leader in the field of special education, Elizabeth served as assistant dean, chair, and director of the Department of Special Education—undergraduate and graduate—at Simmons College in Boston prior to joining Bay Path as the Dean of Faculty for the Burlington campus. She has been the principal investigator on several federal grants; conducted numerous program curriculum evaluations; chaired college accreditation evaluations; and served as a grant reader for several state and federal grants in Washington, DC; and was a participant at the CISSLM-IMLS International Research Symposium discussing the impact of school libraries on student learning in New York.