Gain practical recommendations and insights to prepare for the soon-to-be-released Title IX regulations.
New Title IX regulations are coming soon. Title IX Coordinators know all too well the amount of effort required to align their institutional policies and procedures to ensure compliance with the new regulations. With this in mind, there are early steps you can take that will enable your campus leaders and partners to see you as the trusted expert and leader in this change process.
Join us for an engaged discussion about the practical steps you can start implementing right away as the clock starts ticking—before you need to ensure compliance with the law. Our expert panel will share practical recommendations and lessons learned from their past experiences, as well as how they effectively prepared themselves and their campus leaders for what lay ahead.
Who Should Attend
This online event best suits Title IX Coordinators and others responsible for providing direction, leadership, and accountability in their institutional roles relating to an equitable and discrimination-free environment. Investigators, decision-makers, supervisors of Title IX Coordinators, legal counsel, and representatives from human resources will also benefit from this free panel discussion.
Register for this Free Webcast

To sign up for this session, please submit your details and sign up for future updates from Academic Impressions.
Candi Smiley, J.D.
Title IX Deputy Coordinator, UCLA
Candi is a licensed attorney with an enduring passion for the intersection of sports and the law. Early in her career, this passion took her to USA Track & Field's Business and Legal Affairs, and later to the National Football League's Management Council. In 2014, she made a career change and decided to focus her passion and legal acumen on the eradication of sexual harassment and the promotion of inclusion in the college and university environment.
Candi has championed Civil Rights compliance for over eight (8) years. She began her career in Civil Rights compliance at the premier Historically Black College & University (HBCU), Howard University, as the Title IX Director. She continued this work at the #1 Public University, the University of California, Los Angeles. She has held positions as the Deputy Title IX Director and as Interim Director of Staff, Diversity: Equal Employment Opportunity Compliance.
Candi's work has focused on students, staff, and faculty. She has conducted Civil Rights investigations and mentored high-level administrators through state and federal agency investigations and inquiries. She has also drafted policies and procedures to comply with state and federal law. Lastly, she has created the curriculum, and facilitated hundreds of training workshops, for both the university and business communities. Ms. Smiley was recently featured as one of the 100 Influential Black Women in Sports by Sports Illustrated magazine.
Cara Hardin, J.D.
Title IX Deputy Coordinator, Marquette University
Cara Hardin is an attorney serving as Title IX Deputy Coordinator for Marquette University in Milwaukee, Wisconsin. Cara helps coordinate and monitor Marquette's compliance with Title IX of the Higher Education Act of 1972 and all associated regulations. She is the lead investigator of formal complaints alleging sexual harassment and the lead investigator and adjudicator of formal complaints alleging sex discrimination and other sexual misconduct filed by Marquette students, faculty, and staff. In addition to her role at Marquette, Cara currently serves as a faculty member and Title IX subject-matter expert for Academic Impressions, a professional development company for higher education institutions. Through Academic Impressions and other contracting opportunities, Cara regularly develops and conducts intensive and hands-on training for public and private higher education professionals throughout the country in the areas of Title IX investigations, adjudications, informal resolutions, and general compliance. On a part-time basis, Cara serves as a mediator within the Title IX informal resolution process for higher education institutions. Before joining the Title IX Office at Marquette, Cara served as Special Counsel in the Ball State University Office of General Counsel, advising on employment-related matters and Title IX compliance. Cara previously served as a deputy prosecuting attorney assigned exclusively to prosecuting sexual assault, intimate partner violence, stalking, and crimes against children. Cara began her legal career practicing employment law at a large midwestern law firm. Cara obtained her B.A. at the University of Indiana and her J.D. from the University of Miami School of Law. She is licensed to practice law in Indiana, Wisconsin, and Iowa.
Adrienne Lyles, Ph.D., J.D.
Executive Director for Gender Equity & Inclusion and Title IX Coordinator, University of Cincinnati
Adrienne serves as Executive Director for Gender Equity & Inclusion and Title IX Coordinator at the University of Cincinnati (UC). She arrived at UC in July 2021 and manages UC's comprehensive response to concerns related to sex/gender, including compliance with Title IX of the Higher Education Act of 1972 and Title VII of the Civil Rights Act of 1964.
Prior to arriving at UC, Adrienne was Associate Director of Equal Opportunity, Senior Deputy Title IX Coordinator, and Associate Teaching Professor of Philosophy and Religious Studies at Iowa State University. At Iowa State, she was responsible for policy, procedure, and processes related to non-discrimination and anti-harassment, as well as affirmative action planning. She has also taught philosophy at the University of San Diego and Saint Mary's College (Indiana), served as director of an interdisciplinary social justice education program, and was attorney/owner of a law firm in South Bend, Indiana.
You can find Adrienne's article, "Title IX Investigations: The Importance of Training Investigators in Evidence-Based Approaches to Interviewing," co-authored with Dr. Christian Meissner, in The Journal of Applied Research in Memory and Cognition. Her current research focus is on remediating prejudice and stereotypes in workplace investigations. She collaborates with leading researchers in the fields of investigative interviewing, interrogations, and credibility assessment toward the development of science-based interview training programs.
Adrienne completed her undergraduate degrees in Philosophy and English at Iowa State University. She earned her M.A. and Ph.D. in Philosophy from the University of Colorado at Boulder; her areas of specialization include feminist philosophy, existentialism, and intersectionality. Adrienne earned her J.D. from the University of Notre Dame and is licensed to practice law in Indiana.
Questions About the Event?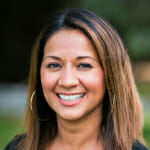 Rabia Khan Harvey
Senior Learning & Development Manager,
Academic Impressions