Customer service in higher education is still new and few are certain how to do it well. Here's what our panel of experts have to say.

by Sarah Seigle, Academic Impressions
Providing good customer service to students has become an expectation in today's higher education environment, yet customer service in higher education is still new and few are certain how to do it well, or what the term means when placed in the context of students, faculty, and staff.
To learn more about how colleges and universities are adapting the concept of service competencies to this sector, and to gather practical advice for how units and departments can navigate this shift in mindset, we turned to three acknowledged experts on customer service in higher education:
Dr. Heath Boice-Pardee, Associate Vice President for Student Affairs at Rochester Institute of Technology;
Emily Richardson, Dean of the Hayworth School of Graduate & Continuing Studies at Queens University of Charlotte; and
Eileen Soisson,  Executive Director of Training, Development and Service Excellence at Coastal Carolina University.
These three are also the authors of the popular book Elevating Customer Service in Higher Education: A Practical Guide.
Sarah Seigle. Hi Heath, Emily, Eileen. Thank you for joining us for this conversation! The first question we want to ask is: How has the way higher ed looks at customer service changed over the past 5 years?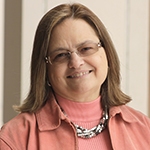 Emily Richardson. The expectation of immediate responsiveness was not around 5 years ago, and in the digital age, we now expect a response to a request immediately. Our students and their parents experience this type of service response daily, and are now expecting the world of higher education to offer the same type of immediate service response. Service in higher education is being compared with service customers are receiving from retailers like Amazon.com and Land's End; entertainment conglomerates like Disney and Princess Cruises; as well as many other companies that now realize service to customers is the key to repeat business and good word of mouth.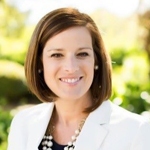 Eileen Soisson. When Coastal Carolina University began its customer service program in the summer of 2012, there may have been ten colleges or universities that had such a program.  Today, you see almost 75 institutions who have started focusing on the priority of service within higher education. The word "customer" is still a bad word in academia, but we are talking about it more and defining who our customers are, more than before.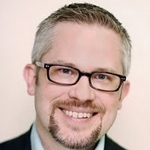 Heath Boice-Pardee. As the number of students in parts of the United States decreases, colleges and universities are looking at models from other industries to attract and retain "customers." The Obama administration has added to this endeavor by emphasizing that higher education must be mindful of the "value" that colleges and universities offer students and their families. Looking to ideals of "customer service" is a natural route for many in higher education, since one goal for many of us is improving the student experience and student satisfaction.
Sarah Seigle. How do you provoke the culture change necessary to achieve superior customer service on campus?
Emily Richardson. Ideally, the culture change begins with the president and their executive team presenting a firm statement about their belief in the importance of "service excellence" at an institution of higher education. However, this does not always happen, so department supervisors need to be willing to step up to the plate and have conversations with their staff about how service can be improved within their division. You should not wait for a voice from the top to start the discussions, since it is often the frontline staff that provide daily service to multiple customers both on and off campus. Seek frontline perspectives on what can be improved.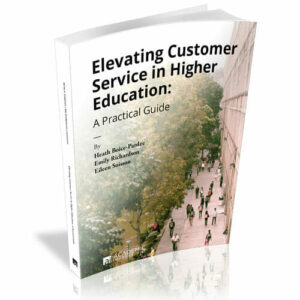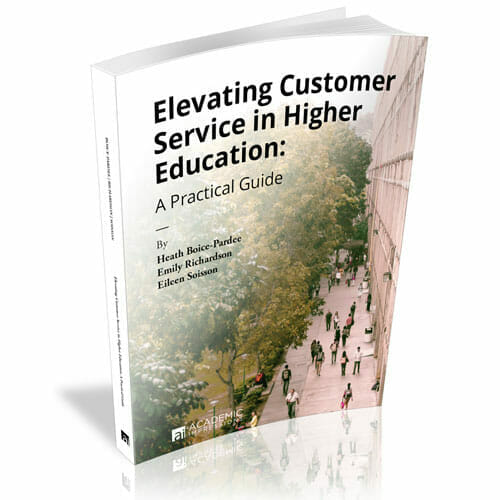 Eileen Soisson. At Coastal Carolina University, it was important that the Feel the Teal® Service Excellence Initiative clearly communicated that the program was not based in any way on the outdated, antiquated, never-should-be-said-again expression, "the customer is always right." The customer is not always right, but it is our job to make the situation right.
If a college/university intends to provoke culture change with "the customer/student is always right," then that tells faculty and staff that they are always wrong. Who wants to buy into that? Instead, create an empowering culture that allows and encourages people to go out of their way for the good of the customer. Show them how to do that through training and supportive measures built into the program. Reward and praise the behaviors and results you want to see more of; it is amazing how fast and far that can go in a program that is about serving others.
Heath Boice-Pardee. As with any problem, encourage people to look at the data. If you don't have data readily available, identify ways to collect it. Listen to what your internal and external customers are telling you and heed their advice in measured and public ways. On a college campus, if students aren't satisfied with programs and services, this should be the only provocation necessary to inform change.
Sarah Seigle. You mentioned training. What is the best way to provide customer service training in a college/university setting?
Emily Richardson. Training on customer service in higher education must be done with planned care and thought. Simply using the term "training" can sound remedial, and adding to that the concept of "customer" may put off some individuals who feel that the institution looks too "business-like" and who may not want to attend the training. Keep the effort focused on the student and their needs, and on how delivery of services can help retention and graduation numbers. That can produce broad interest across the institution.
One approach is to work directly with individual departments on their points of service contact. Allow small successes with these departments to inform the "word on the street" about the training opportunities that are available on campus.
Eileen Soisson. At Coastal Carolina University, we implemented a university-wide service excellence training program to support and drive the initiative from the beginning. If we expected employees to exhibit service behaviors and attitudes, we needed to set expectations and define what that meant, specifically, at our university. Our eight training modules address service basics, attitude, civility, history & traditions, assisting with difficult situations, and personal accountability. This comprehensive training program has allowed us the opportunity to set clear expectations and raise the service skills and awareness of our employees.
Sharing the history and traditions of your college/university is an excellent way to use training to create more of a culture and build institutional pride, which then shows in every service interaction. Coastal Carolina University includes a two hour session, CCU History & Traditions, as part of the training program. Participants are taught about the institution's beginnings as a junior college and its growth throughout the years. This particular training module is the most popular in the program, and employees have asked for more training about the university's history. As one visual example of how this training and this movement of Feel the Teal® has impacted the campus: years ago, students and employees were known to wear other universities' sweatshirts on campus, and now, four years later, that is rarely seen on a campus full of teal.
In order to create buy in for the training and an attitude of "I get to" vs. "I've got to," I would encourage not making the service training mandatory. "Mandatory" is such a dreaded word in higher education, and that approach will set a program up to fail from the beginning. At CCU, employees are strongly encouraged to attend the service excellence trainings, and then the university rewards those who take advantage of the opportunity with a celebration and certificate when the training program is completed.
Heath Boice-Pardee. Many staff and faculty don't like to consider students as customers. I'm regularly met with the argument, "We aren't a 4-star hotel, the customer isn't always right." This is true, and at most 4-star hotels the customer isn't always right either. Customers usually don't expect to have every whim catered to; the goal is usually to meet or exceed expectations. In higher education it can be helpful to illustrate ways that we all work to enhance student satisfaction by meeting expectations. What are students' expectations and how should we work to meet or exceed them?
Sarah Seigle. Speaking to your peers at other institutions who are working to improve service to students, parents, and other customers, what is the single most critical piece of specific advice you would offer them?
Emily Richardson. I strongly believe that if you don't start to measure your service, you won't make it better. Whether that is the time it takes to answer a phone call from a prospective student, to the time it takes to respond to an email from a colleague, or the number of complaints you receive monthly about cleanliness in dorms, without measurement, you can't improve or begin to make a difference in customer service on a campus. Even asking questions about how long or how many can begin to make the difference.
Eileen Soisson. As much as some cringe at the business term "customer service," customer service is meeting the expectations of those who provide the inflow of funds or value to an organization. Although public universities are public organizations and not for profit, a large percentage of a university's operating budget comes from tuition dollars; colleges and universities must address the reality of customer service in higher education settings.
Students today have so many options and if they are not engaged and valued in the academic community they are in, they will go to another institution. To quote Sam Walton, "If you don't take care of your customer, someone else will." In fact, 23% of students will leave a college or transfer to another institution due to the perception of poor service (Raisman, 2012); it is one of the most frequent causes of attrition:
REASONS STUDENTS LEAVE COLLEGE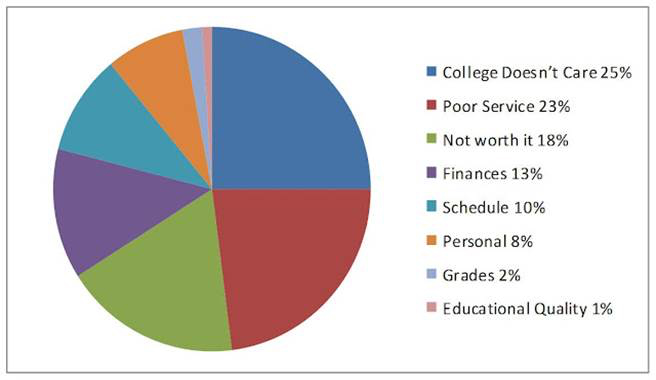 Source: (Raisman, Why Students Leave College 2012 Study Results, 2012)
Heath Boice-Pardee. Listen to your customers and do your best to put yourself in their position. When possible, put yourself in a position to observe or experience what your students and other customers experience. This will not only enhance your credibility with your customers but will likely entice you to make changes based on personal experience.
Sarah Seigle. Thank you all! I am excited to talk with you more at our next customer service skills training and certification!
__________________________________
Photo Credit: Inbal Marilli on Unsplash.
__________________________________
Get the Book
Boost your department's standard of customer service.
Elevating Customer Service in Higher Education provides an in-depth guide by three practitioners with decades of combined experience in the higher education and hospitality sectors. Our authors are deeply embedded in customer service initiatives and have certified hundreds of higher-ed professionals at Academic Impressions' customer service trainings and on-campus workshops.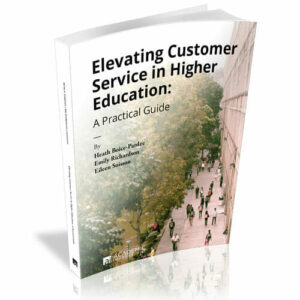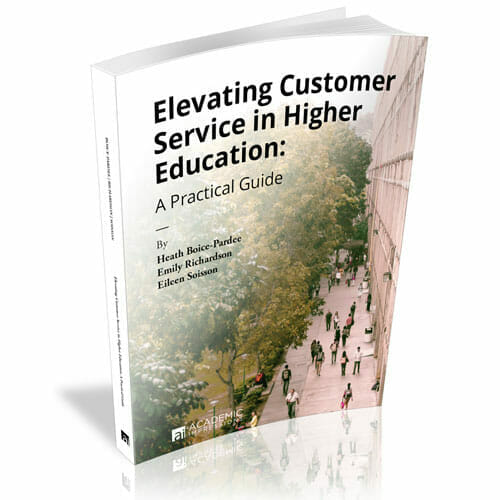 "The book provides the basics of academic customer service in a very considered and practical guide by pulling on some of the best work in service excellence, academic customer service, and business practices. It provides the background needed to engage in customer service on campus and initiate the thinking necessary to begin setting up a service excellence program. It should be read by every administrator who cares about retention and service excellence."
Neal Raisman, N. Raisman & Associates
"How refreshing and encouraging it is to read a book about customer service on today's college campuses. Customer service can no longer be viewed as a negative concept on our campuses. Rather, such service is mandated today... Implementing such measures that change a campus's culture may mean the difference between those colleges that survive and those that do not. The foundations of quality service discussed in this book should be mandatory reading for all college administrators."
David DeCenzo, President, Coastal Carolina University