Create a summer plan that sets clear boundaries, anticipates challenges, and helps you to achieve your goals.
Does the end of the academic year feel like a survival race, leaving you burned out and considering different career options? Does the approaching summer fill you with dread as you consider all the catching up you must do now that the semester is over? What if instead of approaching the summer with the mindset of "catching up" or reacting to demands from others, you intentionally planned for a summer that sets clear boundaries, anticipates challenges, and helps you to achieve the goals you want to achieve?
Join us for this free webcast, where our faculty coaches will share strategies for getting out of the end-of-semester survival game, so that you can get back on track and ready for the next academic term. During this one-hour webcast, our coaches will help you:
Set achievable summer goals and boundaries.
Anticipate challenges and plan accordingly so that you can stay on track.
Explore how faculty coaching can help you to re-engineer your academic life to align with your career goals, aspirations, and needs.
Who Should Attend
This webinar is designed for any faculty member who wants to create an achievable plan for the summer so that they can:
Write that journal article or book chapter.
(Re)design a course for an upcoming term.
Proactively develop their professional skillset, such as in leadership and/or mentoring.
Complete projects that have been put on hold over the course of the academic year.
Whether you are ready to finish a project or start something new, our coaches can help you to design the productive summer you desire—and create the boundaries necessary to achieve it.
Register for this Free Webcast

To sign up for this session, please submit your details and sign up for future updates from Academic Impressions.
Corinne Nicolas, PhD, PCC
Assistant Director of Coaching, Academic Impressions
Corinne is an ICF-certified coach and facilitator working primarily with early-career and mid-career academics seeking guidance and support in a variety of areas of their academic life, including productivity, workplace dynamics, career advancement, work-life balance, "academic parenting", next career steps, etc.
Her approach to coaching is vision driven and goal focused. She partners with clients to help them identify their professional vision – their why – and to think through how to align their academic life with that vision and their aspirations. Together, they explore how to bring intentionality into their decision-making, using strategies tailored to their needs and contexts, so they can create career paths that work for them. Read Speaker's Full Bio.
Heather Fryer, PhD, BCC
Faculty Coach
Heather helps mid-career faculty revitalize their careers by restoring their connection to the passion and purpose that first sparked their dedication to their academic fields. Academia is rough terrain that many faculty navigate alone. It's natural to adopt habits like overworking and people (or institution)-pleasing to cope with early career stresses without realizing the cost of shifting focus from their true aspirations. These habits take root over time, giving life to self-undermining behaviors like perfectionism, impostor syndrome, chronic dissatisfaction, and disengagement. Read Speaker's Full Bio.
Questions About the Event?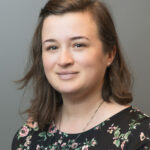 Jenna Ledford
Learning & Development Manager,
Academic Impressions