Going Beyond Articulation Agreements: Creating Meaningful Transfer Partnerships (Recording)
Last updated May 18, 2020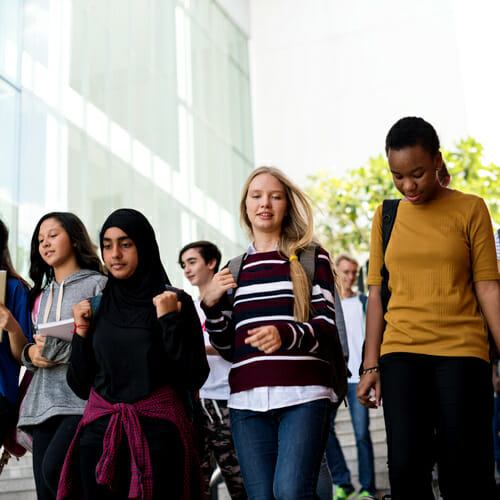 Going Beyond Articulation Agreements: Creating Meaningful Transfer Partnerships (Recording)
Last updated May 18, 2020
---
Boost your enrollments and transform student success by building strong transfer pipelines between 2- and 4-year institutions.
Overview
Students and families across the nation are considering enrolling in community college instead of moving forward with a traditional, on-campus university experience due to the COVID-19 pandemic. This shift could have major financial and recruitment implications for both community colleges and 4-year institutions. Both 2-year and 4-year institutions have an opportunity to adapt by creating new partnerships that facilitate a smooth transfer pipeline to:
Recruit more students and build a guaranteed enrollment pipeline by promoting student transfer
Create clear programmatic pathways and provide advising that makes the transfer process a smoother experience for students
Remain competitive by offering students more courses and services at more affordable rates
Improve student success and persistence by increasing preparedness and creating a sense of student belonging before transfer
Join us online for this three-hour virtual workshop to learn tactics for developing successful partnerships between community colleges and universities, auditing your current positioning to identify opportunities for your institution, and creating an action plan to move your work forward. During the first hour, our expert instructors will showcase examples of successful partnerships, their key components, and the tactics needed to create them. In the second hour, you'll discuss and analyze as a group how those models can be adapted post-COVID-19 and complete an individual SWOT analysis to help identify areas of strength and opportunity for your institution. In the final hour, you'll create an action plan that allows you to walk away with confidence in how to begin designing your new partnership.
Agenda
June 8, 2020
1:00 – 4:00 p.m. Eastern Time
During this three-hour virtual workshop, your expert instructors will guide you through the following:
1. A Success Showcase – You'll hear about a variety of successful partnership models from across the country and learn tactics to develop partnerships that create a guaranteed student pipeline, while also increasing student success by fostering a greater sense of belonging.
---
2. Audit Your Institutional Strengths and Opportunities – Through group discussion and self-reflection, you'll conduct a SWOT analysis to identify opportunities for partnership on your campus, and you'll examine how the case studies from above can serve as inspiration. You'll also discuss how COVID-19 requires you to adapt those models to meet the changing needs of your students while remaining competitive.
---
3. Plan for the Future – You'll write an action plan for how to get started on creating a partnership on your campus, so that you walk away from this workshop feeling empowered to take the next steps.
Who should attend?
This virtual workshop was created to bring together both 2-year and 4-year institutions who are looking to hear from the other side to help them design a partnership that encourages student transfer and success.
2-year institutions will benefit by learning how to design a meaningful partnership that makes transfer a priority and that can be utilized as a recruitment tool.
4-year institutions will benefit by learning how they can shape their partnership to bolster their enrollment pipeline and improve transfer student success.
If you're a Vice President, Provost, Dean, Director or Assistant/Associate Director who is focused on improving the transfer student experience and/or interested in creating a transfer student enrollment pipeline for the future, this workshop is for you!
Get this + 100s more FREE
Already a Member? Login
20+
years serving higher ed
3,500+
institutions served
200,000+
faculty and staff participants