Member Exclusive Training Opportunity!
Pick your learning plan & download the PDF
Complete the training activities & reflection on your learning
Submit your reflection activity & get your certificate of completion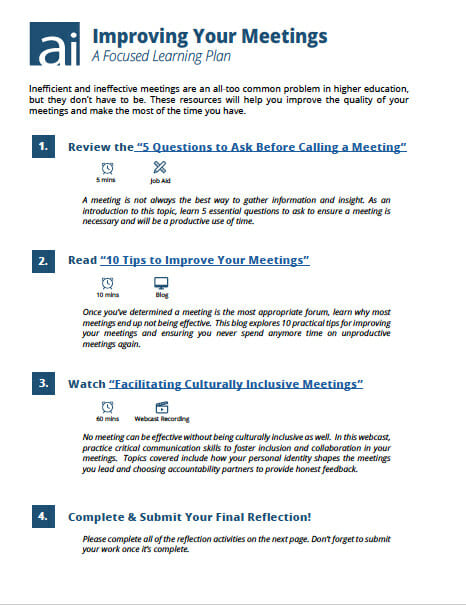 What to Expect:
Number of Trainings: Each plan includes 2 - 4 trainings or learning activities.
Time Commitment: Each learning plan should take less than three hours to complete.
Reflection: Each learning plan includes two reflection questions that are intended to help you cement the learnings into practice.
Certificate of Completion: Upon completion of the trainings or learning activities in each plan, you can submit your reflection questions to receive a certificate of completion. If you'd like, we can even email your supervisor to ensure they are aware of your new-found knowledge.
Managing Difficult Colleagues
Approx. 1.5 hours
If you've ever worked with a difficult colleague you've likely seen first hand how disruptive they can be. Working through this plan will help you gain valuable insight into reframing how you work with your most challenging coworkers.
Understanding Strengths-Based Leadership
Approx. 3 hours
Bring out the best in yourself and your team by leveraging a strengths-based approach to leadership— even if you're leading from below.
Your Role as a Team Leader
Approx. 2 hours
As a team leader, you play a crucial role in ensuring your team is able to perform as needed. The following resources will provide an overview of teams in higher education and some crucial guidelines for forming and leading a team of your own.
Members: Complete Your Learning Plan and Submit Your Reflections to Get Your Certificate
Not Yet a Member? Become a Member Today.
Members receive access to content across all of these collections and more.
Buy membership based on desired number of users  
Invite users to your membership
Engage with upcoming and on-demand online trainings 
Learn more about membership benefits, included content, and pricing.
Members: Submit Your Reflections & Get Your Certificate