Create more equitable and inclusive environments to support the success of Asian faculty and staff leaders.
Overview
Asian students, faculty, and staff continue to be underrepresented in higher education, and as we look at leadership positions, this gap widens further, with only 1% of college presidents identifying as Asian. While individual support and leadership advancement is important, it does not address the systemic issues that created these inequities in the first place. In this virtual session, we will discuss steps you and your institution can take to create a more inclusive and equitable environment to support Asian faculty and staff.
This program is the second in a two-part series. While this second program is intended for any leader interested in creating systemic change at their institution to better support Asian leaders, the first program is specifically for leaders who identify as Asian.
Who Should Attend
Any leader interested in creating inclusive and equitable environments to better support and retain Asian faculty and staff.
Members: Login to access both of these trainings for free!
Not yet a member? Use promo code asian-leaders-bundle to receive $200 off when you register for both trainings.
Recording available 10 business days after the live training.
The Academic Impressions Online Learning Experience

Intentionally Designed
Online Learning
Our virtual trainings go far beyond just replicating PowerPoint presentations online: these experiences are intentionally designed to give you the kind of robust and dynamic learning experience you've come to expect from Academic Impressions. These trainings provide you with an active learning environment and an online space where you can explore ideas, get inspired by what your peers are doing, and understand the range of possibilities around a certain topic. You will leave these sessions with practical solutions that you can take back to your team or task force.
What you will get:
A dynamic, interactive, and high-touch virtual learning experience designed to engage and set you up for growth
Seamless online face-time, networking, group work, and Q&A opportunities from the comfort of your own workspace
Practical takeaways and hands-on knowledge
Guidance from vetted subject matter experts
Unlimited access to all recorded online sessions
AGENDA
Friday, May 5, 2023
1:00 – 2:30 p.m. ET
During this session, we'll discuss practical steps that you and your institution can take to create a more inclusive and equitable environment to support Asian faculty and staff.
1. Because Asian American history is often excluded from school curriculum, we will begin by examining some of the critical context necessary to understand current anti-Asian bias and raise awareness of the existing issues of inequity in our system.
2. Next, we will spend time exploring practical ways that you can take individual and systemic action to create more equitable campuses. We'll discuss strategies such as:
a. Perspective Taking
b. Microresistance
c. Sponsorship
d. Equitable Hiring and Promotion Practices
3. Finally, we will close by sharing what one group of Asian leaders wish other leaders knew in order to create more supportive campus environments. Attendees will be asked to spend time reflecting and choosing one action item to commit to upon completion of the session.
SPEAKERS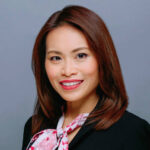 Christie Chung, PhD
Associate Dean for Research, Scholarship, and Partnerships, Special Advisor to the Senior Vice President on Diversity, Equity, and Inclusion (DEI) Professor of Psychology
Christie Chung, PhD, is the Associate Dean for Research, Scholarship, and Partnerships at Mills College at Northeastern University. She leads research and experiential learning relationships, develops and manages external research grants and funding opportunities, and cultivates new partnerships. Chung also serves as the Special Advisor on Diversity, Equity, and Inclusion (DEI) to the Senior Vice President for Global Network and Strategic Initiatives. Previous to her current roles, Chung served as the Associate Provost for Student Success and Undergraduate Education at Mills College and supported all functions of academic success, faculty hiring, tenure, and promotion processes, as well as Antiracism and DEI efforts.