Join us online to begin the important work of auditing your campus policies and procedures for pregnant and parenting students. We will share an easy-to-use checklist that will help you ensure that you've met your obligations in creating an accommodating and inclusive environment for pregnant and parenting students on campus.
During the webcast, we'll pay special attention to the concept of "reasonable accommodations." Even if your faculty, staff, and administrators know that they need to accommodate pregnant and parenting students, the accommodations offered can vary widely across campus – leading to disparity in the academic integrity of coursework and inconsistencies across the student experience. You'll leave the program with recommendations for accommodations that can be applied more consistently.
Who Should Attend
We've designed this webcast for Title IX coordinators, legal counsel, and other administrators who set policies and procedures for pregnant and parenting students. Those who have an interest in classroom accommodations and who work in instructional design from the academic side of the house will also benefit from this content—as will those from student success who work with these student groups.
Agenda
After briefly discussing legal guidance for policies surrounding pregnant and parenting students, we will outline the key pieces you need to account for in your campus policies and procedures, including:
Reasonable accommodations
Childbirth vs. childcare
Institutional policies and procedures
While we can't suggest the accommodations your campus should provide, we will offer advice on how to ensure consistency across campus – no matter what policies and procedures you adopt.
Instructor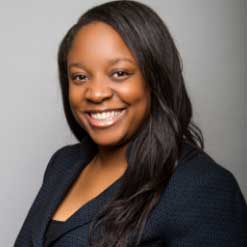 Jeanine Bias
Director, Office of Equity and Inclusion / Title IX Coordinator, Sam Houston State University
Jeanine has spent her entire professional career in Higher Education Administration and Student Affairs. Currently, she serves as a resource for advisement and consultation on issues related to diversity, equity and inclusion. Her responsibilities include providing leadership to investigations into allegations of discrimination, harassment, and other civil rights violations as well as develop and facilitate university wide training programs and activities related to Title IX, Title VII, and other Equal Employment Opportunities/Affirmative Action (EEO/AA) laws and regulations. Read Jeanine's full bio here.
Questions About the Event? Email this event's Program Manager, Christine Murphy.
Product Information
What's included in your purchase?
Live webcast session - a live presentation where you have the chance to ask questions and get personalized answers from our expert speakers. You must purchase the product prior to the live date in order to attend the live session.
Webcast recording - a recording of our live session that you can access anywhere, anytime.
For more details about this product, please visit our Product FAQs.