A book by James M. Langley
An effective president does so much more than raise funds and shake hands. Your institution's president is uniquely positioned to scan the horizon and help develop and communicate a vision of the future to prospective donors. In this book, Jim Langley, president and founder of Langley Innovations and past vice president for advancement at Georgetown University, contends that the president's primary role in fundraising is not to ask for money but to create the conditions that attract significant philanthropic investments.
This book will offer a forward-thinking look at: 
How the president can take a lead role in defining the case for support and identifying inspiring projects defined by specific objectives rather than categories of institutional need
How the president can define for donors the difference a philanthropic dollar makes in achieving key objectives
The respective roles and responsibilities of the president, the vice president for advancement, and the board chair
The president's specific role in donor stewardship, campaigns, piloting new models for fundraising, volunteer management, and asking
How to onboard a new president in ways that strengthen rather than stall the work of fundraising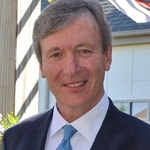 James M. Langley
Founder and President
Langley Innovations
Before forming his own comprehensive advancement consulting firm, Jim served as vice president for advancement at Georgetown University. At Georgetown, he led the institution's offices of alumni affairs, strategic communications and marketing, development, medical center development, and advancement services. During his tenure, he produced record numbers in new commitments and dollars, despite a difficult economy. He also launched a number of innovative programs, including the acclaimed Student Discovery Initiative.
Jim arrived at Georgetown after spending eight years as the vice president for advancement at the University of California, San Diego. At UCSD, he led the planning and execution of the institution's seven-year $1 billion campaign, then raised almost half the target amount in three years, despite a weak economy. Jim also previously served as vice president for external affairs at Georgia Institute of Technology, increasing annual gift income from $26 million to $76 million and more than tripling the institution's endowment to well over $500 million. Operations under his management have won awards in virtually every area of university advancement.
Are you appropriately leveraging your president as a fundraiser?
Order multiple copies for your campus!
Order 10 or more copies and receive a $25 discount on every copy you purchase
---
---
Each print and digital copy purchased is licensed to the individual purchaser. Academic Impressions restricts the purchaser from making copies of this book or distributing digital copies for any reason.