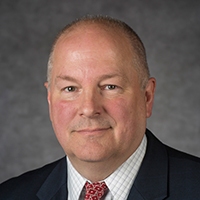 Jon Boeckenstedt
Associate Vice President of Enrollment Management
Jon Boeckenstedt has been with DePaul, the largest private university in the Midwest, since 2002. He is responsible for undergraduate admissions and for setting and coordinating new student financial aid strategies that affect over 5,000 new undergraduates each year.  In addition, he works with external data sources and research tools to understand and monitor DePaul's market position.
He brings almost thirty years of experience in higher education, all spent in admissions and enrollment management. His interests include predictive modeling and the intersection of corporate and higher education management issues, and he was among the first in the nation to present on the application of brand to higher education, in 1993.  He has written a chapter on the place of admissions in the academy in Contemporary Colleges and Universities: A Reader edited by Joseph L. DeVitis.
Jon has worked at Mount Mercy and Grinnell Colleges in Iowa, the University of Dallas in Texas, Communicorp (a marketing consulting firm working with not-for-profits) in Atlanta, and St. Bonaventure University in New York, where he spent seven years as dean and then vice president of enrollment management. He earned his master's degree in management and marketing from the University of Maryland University College.