A SERIES ON INNOVATIONS IN FUNDING ACADEMIC RESEARCH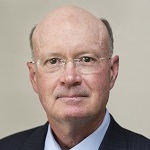 Ed Mason, president of EMNR & Associates, is writing this series to assist academic leaders in finding creative strategies to merge public/private funding for existing and new research initiatives. Mason has studied an array of collaborative partnerships between the two offices most focused on external funding (the development office and research & grants), and he will be sharing some of the models he has observed, as well as directions for the future.
We hope you will join us for this innovative series:
By Ed Mason (EMNR & Associates)
In the traditional model for funding academic research at universities, multiple offices and departments interact with faculty in the administration of grants and gifts from external donors. Commonly, these offices do not interact frequently or communicate effectively with each other, which tends to create a "silo" effect. By moving instead to a team science model for defining and funding research initiatives, you will:
Increase your chance of success in finding external funding for your research programs from federal agencies and private foundations.
Be better able to

break down these barriers around your institution's research projects, speed up communication, and provide clear avenues for conflict resolution.
What is Team Science, and What Does it Mean to Researchers and Development Officers?
Team science is a proven model that creates partnerships between researchers, advancement professionals, and other key stakeholders at your institution. It involves developing strong collaborative teams who will be able to compete and successfully procure funding for high-priority research projects.
Because these teams are able to bring a more holistic, integral approach to solving complex scientific and social problems than lone researchers are likely to, the National Institutes of Health (NIH) and National Science Foundation (NSF) are specifically funding team science research, particularly for:
Science, Technology, Engineering and Mathematics (STEM)

Obesity research

Bioengineering

Neuroscience

Behavioral and social science
According to Holly Falk-Krzesinski, PhD, a leading researcher and presenter on team science: "There's an increased demand for team science initiatives in academia and by external funding agencies." For most higher-ed institutions, this represents an untapped opportunity to fund meaningful research at a higher level.
---
We hope you're enjoying this read. The full text of this article or report is complimentary for Academic Impressions members. Please login to your member account to read it!
If you're signed up to receive our Daily Pulse, but your institution does not have an active membership, you won't have access to this article.
FIND OUT ABOUT MEMBERSHIP:
An Academic Impressions membership provides multiple users on your campus with unlimited access to exclusive reports, research briefs, hundreds of free webcasts and online trainings, and discounts on conferences. Learn more about membership and get unlimited training and reading for you and your team today.