A SERIES ON INNOVATIONS IN FUNDING ACADEMIC RESEARCH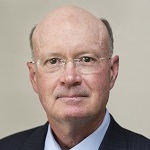 Ed Mason, president of EMNR & Associates, is writing this series to assist academic leaders in finding creative strategies to merge public/private funding for existing and new research initiatives. Mason has studied an array of collaborative partnerships between the two offices most focused on external funding (the development office and research & grants), and he will be sharing some of the models he has observed, as well as directions for the future.
We hope you will join us for this innovative series:
By Ed Mason (EMNR & Associates)
Increasingly, universities are compelled to develop new fundraising models because of several prevailing trends:
"A study by the American Association for the Advancement of Science found that overall federal and research development funding could be reduced by $57.5 billion or 8.4% if the sequester stays in place for the next 4 years. The National Institute of Health (NIH) number of research grants has declined every year since 2004. The agency funded 3,100 fewer grants in 2012 than it did in 2004" (Seib, 2013).
"Nationally, spending per full time equivalent on students by state government is $6,105 still below the $7,924 mark in 2008 from a report released by the State Higher Education Executive Officers. The good news is that many states are increasing their funding for universities, but it is not up to current levels" (Rivard, April 21, 2014). States have also decreased funding for capital projects and employment for universities.
"Mega-wealthy philanthropist donations to universities for funding basic research is increasing. Paul Allen, a co-founder of Microsoft, has donated $500 million for a brain institute in Seattle. Fred Kavil, a billionaire, has established brain institutes at Yale, Columbia and the University of California. Science philanthropy is hot, as many of the richest Americans seek to reinvent themselves as patrons of social progress through science research" (Broad, NY Times, March 16, 2014).
Additionally, federal programs are beginning to ask for matching funds from either state or private sector.
---
We hope you're enjoying this read. The full text of this article or report is complimentary for Academic Impressions members. Please login to your member account to read it!
If you're signed up to receive our Daily Pulse, but your institution does not have an active membership, you won't have access to this article.
FIND OUT ABOUT MEMBERSHIP:
An Academic Impressions membership provides multiple users on your campus with unlimited access to exclusive reports, research briefs, hundreds of free webcasts and online trainings, and discounts on conferences. Learn more about membership and get unlimited training and reading for you and your team today.