Now more than ever, it is a challenging environment in which to be a Provost or VP for Faculty Affairs. Hiring and retaining a diverse faculty body, combating issues of disengagement and faculty climate, constant leadership turnover at multiple levels, and the pressure to maintain competitive and relevant offerings in a compressed enrollment market are all challenges that academic leaders must navigate on a daily basis. In light of these challenges, Provosts and Faculty Affairs leaders—otherwise lone wolves on their campuses—are in greater need than ever of spaces where they can connect with peers across the nation, discuss common challenges, and exchange ideas.
Join us for an ongoing discussion series designed specifically for Provosts and Faculty Affairs leaders. Each month, we'll convene a group of panelists to discuss important and complex issues that are shaping your work as an academic leader, such as:
Rethinking promotion & tenure
Fostering faculty engagement and belonging
Developing academic leaders within your institution
Academic program innovation
Advancing your DEI mission in today's climate
Navigating academic restructuring
Supporting career-track and mid-career faculty
Expanding your institution's research footprint
Preventing and confronting academic bullying
Sessions will be added on an ongoing basis. Check back soon for more!
Re-examining Pandemic-Era Assumptions in Faculty Life: A Discussion for Faculty Affairs & Academic Leaders
Recorded on September 20, 2023
Help faculty break free of pandemic-era patterns that no longer serve them or our institutions.
Overview
The fall of 2023 marks three and a half years since the pandemic began. Though daily routines have resumed for many, there are a core set of practices and assumptions that became characteristic of faculty life during pandemic times that have yet to dissipate. As academic leaders charged with supporting the success and well-being of faculty, we must find ways to help our faculty and institutions re-examine these assumptions by answering questions like:
How can we help faculty, Chairs, and other academic leaders shift away from having to be in caretaking mode 24/7?
How can we reestablish the importance of having a physical presence on campus and forming meaningful connections with colleagues?
How can we support faculty in combating student disengagement and reluctance to participate in the classroom?
Join us for a free webinar session to discuss these and other related questions. You'll hear from our panelists, Joanna Brooks, Associate Vice President for Faculty Advancement and Student Success at San Diego State University, and Colleen Ryan, Associate Vice Provost for Faculty & Academic Affairs, as well as your peers in similar positions across the country. You will leave with a better sense of how these conversations are unfolding at other institutions and equipped with new ideas you can use to begin to challenge these assumptions on your own campus.
Who Should Attend
This session will be of benefit to any academic leader who supports faculty as part of their role. Faculty affairs leaders, Deans, and Chairs will find particular benefit.
Joanna Brooks
Associate Vice President for Faculty Advancement and Student Success at San Diego State University
Joanna Brooks is an award-winning writer and author/editor of ten books on race, religion, gender, social movements, and American culture. In her role as Associate Vice President for Faculty Advancement and Student Success at San Diego State University, she leads faculty development and student academic support efforts at a large, public, and research-intensive Hispanic-Serving Institution of higher education.

Colleen Ryan
Associate Vice Provost for Faculty & Academic Affairs, Indiana University Bloomington
Colleen Ryan is Associate Vice Provost for Faculty and Academic Affairs at Indiana University, where she collaboratively oversees tenure and promotion procedures, faculty leadership development, and programming for faculty success. She is Director of the Initiative for the Advancement of Women and Liaison to the Institute for Advanced Study's mid-career mentorship program. Her current interests include meditation and restorative practices.

Maintaining Relevance in an Era of Accelerating Change: A Leadership Conversation for Provosts
September 27, 2023 | 1:00 – 2:00 p.m. ET
What are the implications of leading as a Provost in this complex moment in higher education? 
Overview
As higher education is rocked by repeated external challenges, including increased politicization heightening public skepticism about its value, Provosts—charged with upholding the academic mission—must take steps to ensure that their institutions stay nimble, relevant, and financially sound. But changing the existing system can be incredibly difficult, as governance structures are often designed to protect the status quo, and many organizational structures force zero-sum thinking. What are the implications for Provosts' leadership in this situation? How can they effect the change that is necessary for their institutions to remain both viable and vibrant?
Join our panelists and other Provosts across North America for a discussion about leadership approaches that you can take to help your institution maintain relevance in a time of accelerating change. Together we'll share beginning thinking around challenges for which there are no easy answers, such as:
Creating effective partnerships within the governance structures above and below us to achieve a common purpose.
Building capacity in our leadership teams for positive-sum thinking that encourages collaboration and discourages territorialism.
Helping our constituents to adopt a systems view that allows them to see the bigger picture of where we are now and where we want to go.
You'll leave with ideas, insights, and reflections from your peers about what it means to lead as a Provost in this unique moment in higher education.
Who Should Attend
This session has been designed specifically for Chief Academic Officers: Provosts, VPs for Academic Affairs, and similar. 
Chris Heavey
Provost, University of Nevada, Las Vegas
Dr. Chris L. Heavey is the Executive Vice President and Provost at the University of Nevada, Las Vegas (UNLV). In this role, he serves as the university's chief academic officer and works closely with the president in overseeing academic, administrative, and budgetary policies and priorities for the campus.

James Mandigo
Interim President and Provost, University of the Fraser Valley (UFV)
Dr. James Mandigo is currently the Acting President and Vice-Chancellor at the University of the Fraser Valley (UFV) located in British Columbia, Canada. Prior to arriving at UFV in 2019, James spent close to 20 years at Brock University, where he assumed several roles including Vice-Provost for Enrolment Management and International, and Interim Dean, Associate Dean, and Co-Director for the Centre for Healthy Development.

Growing and Supporting Academic Staff: An Imperative for Today's Academic Leaders
October 17, 2023 | 1:00 – 2:00 p.m. ET
Create an intentional culture where academic staff can grow and thrive.
Overview
As the keepers of institutional knowledge and day-to-day know-how, academic staff have always been critical to the functioning of Academic Affairs. Yet today, many of us are currently struggling to hire and retain the academic staff we need, and without more intentional support, these challenges are likely to persist. As academic leaders, how can we be proactive about the experiences of our academic staff, and how can we build our skillsets around managing and developing them further?
Join us for a free webinar to exchange ideas and current practices around this issue with fellow academic leaders across the nation. In a panel-discussion setting, we'll explore how you can:
Put supportive onboarding and recognition structures in place to support staff retention from the outset.
Engage staff in effective career growth and professional development conversations.
Approach resourcing creatively to align unit-level needs with staff skills and aspirations.
Who Should Attend
This session has been designed to benefit academic leaders at all levels, including:
Provosts seeking to better understand the experiences that academic staff are having across the division.
Faculty affairs leaders looking to build capacity in deans and chairs who supervise academic staff.
Deans, chairs, and other department heads who would like to manage and develop their leadership teams more effectively.
Follow Through With Success Coaching
Have you ever gone to a training only to find that you came back with great ideas but no time, support, or skills needed to make the changes? At Academic Impressions, we not only offer trainings on topics that matter to you, we also offer a way for you to integrate what you learned into your on-the-ground work with Success Coaching.
Success Coaching is available to purchase and provides you with the guidance and accountability you need to bridge the training with your day-to-day work. You'll receive:
Individualized matching with a coach, based on the training and your goals.
Three hour-long, individual success coaching sessions.
A partnership with a coach with extensive experience in higher ed.
Individualized support so you implement what you've learned.
Provide accountability to bridge the gap between the training and on-the-ground work.
A confidential space to debrief what you learned and think through next steps.
This program is suitable for and customizable to all experience levels.
Dr. Susan Hildebrandt
Special Assistant to the Provost and Professor of Applied Linguistics and Spanish, Illinois State University  
Susan (Sue) Hildebrandt has held positions in three different colleges at Illinois State University since her 2009 arrival: as a professor of Spanish and applied linguistics and teacher education program coordinator in the College of Arts and Sciences for 10 years, as an interim chairperson in the College of Education for three years, and as an interim associate dean in the Mennonite College of Nursing for one year.

Yojanna Cuenca-Carlino, Ph.D.
Chairperson of the Department of Special Education and Professor of Special Education, Illinois State University
Dr. Cuenca-Carlino is a professor who serves as the Special Education Department (SED) Chairperson at Illinois State University. The Department serves over 850 students and offers three undergraduate teacher preparation programs in special education, leading to licensure and various graduate programs.

Questions About the Event?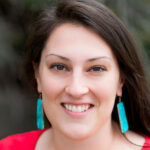 Sarah Seigle Peatman
Director of Learning & Development,
Academic Impressions