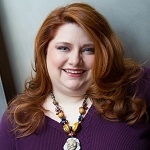 In her new book The 4 Pillars of Donor Relations, Lynne Wester of Donor Relations Guru® helps you rethink donor relations practices and offers specific tips for more powerful acknowledgements, stewardship and impact reporting, recognition, and donor engagement. Get this comprehensive guide to donor relations for your shop today, and transform the way you steward, recognize, and engage your donors.
The article that follows is an excerpt from Lynne's book.
by Lynne Wester (University of North Carolina at Charlotte)
How difficult do you make it for someone to give you money?
In the world of "mobile first," Amazon one-click, deliver-the-next-day customer satisfaction, institutions often don't think about what the online giving experience is like for their donors. I'm not talking about your "give now" button or your homepage design, but rather the design of your actual giving page mechanism and the experience your donors have when attempting to make an online gift.
So I must ask you if you have looked at your online giving statistics lately?
Do you know the percentage of your donors that give online?
Have you tried making a gift online to your own organization recently?
Have you checked out your giving website on your smartphone?
What is your abandon rate on your giving site? (This means how many people click on your site, attempt to fill out your form, and then leave without making a gift.) Some abandonment rates are above 50%; if this is the case for you, it means your organization is hemorrhaging dollars and donors.
The design of your giving site and its functionality has a direct impact on your bottom line. Have you invested in it recently?
We have to let the donor experience drive our giving sites, not our cumbersome internal processes that make things difficult. This process should be filled with joy and ease for the end user, not headaches and frustration.
This is especially critical because your online donors make larger gifts than those that come in the mail. Need more proof of the power of online gifts? Check out the annual report from Blackbaud.
To get you thinking, here is a brief checklist of 5 items from the donor's perspective that make a real difference:
1. How long does the site take me to complete? If you make the site long and cumbersome -- with many boxes, required information, and such -- you are killing your closure rates. In addition, leave your development jargon off of this page. If I am a donor, how do I know what a "constituent" means to you?
2. Can I make a pledge and pay a pledge online? If not, why? This should be easy; if I am allowed to pledge online, my gift will be larger. I should be able to make a promise to you and then make payments on my philanthropic promise.
3. Can I give using my iPhone, iPad, Droid or BlackBerry? What does your site look like on a smaller screen? Remember that if you send me an email appeal and call to action, I will probably open it on my mobile device and act right away. If you make that difficult and I can't complete the transaction from my device, you've lost my money. You MUST think mobile first. If your fields are too small, how will I be able to complete them on my tablet?
4. How quickly can I enter my payment information? Remember that I don't have to give you a blood sample and my firstborn child in order for you to process my credit card. The information can be minimal, especially once I give you my CVV code. Stop making me answer 60 questions just because you want more data.
5. Can I give you a LARGE amount online? Please ensure that I can. I may need some airline miles, and paying my $50,000 pledge online will help me get elite status. I've seen this happen and I've seen organizations that won't let a donor give large gifts online, or that limit the type of card I can use. Don't cut off American Express just because it costs more, because it may be my card of choice, especially for large gifts -- and if you stop me from using it, you are killing my donation amount. Remember that most Amex's don't have limits, and business donors will use them more often.
These 5 key considerations are just the tip of the online giving iceberg. I review sites for institutions all the time and am happy to say I have helped many rebuild with stunning success. How can I help you? I would love to hear from you on how we can help your online donor experience: lynne@donorrelationsguru.com.