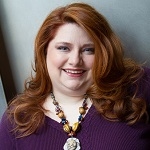 In her new book The 4 Pillars of Donor Relations, Lynne Wester of Donor Relations Guru® helps you rethink donor relations practices and offers specific tips for more powerful acknowledgements, stewardship and impact reporting, recognition, and donor engagement. Get this comprehensive guide to donor relations for your shop today, and transform the way you steward, recognize, and engage your donors.
The article that follows is an excerpt from Lynne's book.
by Lynne Wester (University of North Carolina at Charlotte)
How difficult do you make it for someone to give you money?
In the world of "mobile first," Amazon one-click, deliver-the-next-day customer satisfaction, institutions often don't think about what the online giving experience is like for their donors. I'm not talking about your "give now" button or your homepage design, but rather the design of your actual giving page mechanism and the experience your donors have when attempting to make an online gift.
So I must ask you if you have looked at your online giving statistics lately?
---
We hope you're enjoying this read. The full text of this article or report is complimentary for Academic Impressions members. Please login to your member account to read it!
If you're signed up to receive our Daily Pulse, but your institution does not have an active membership, you won't have access to this article.
FIND OUT ABOUT MEMBERSHIP:
An Academic Impressions membership provides multiple users on your campus with unlimited access to exclusive reports, research briefs, hundreds of free webcasts and online trainings, and discounts on conferences. Learn more about membership and get unlimited training and reading for you and your team today.