This article is an excerpt from Sue Ohrablo's acclaimed book High-Impact Advising: A Guide for Academic Advisors, which you can find here.
Ask anyone who has worked with adult students the major challenges that adult students face and they will tell you work, family, health, and finances. Each of these challenge areas poses a threat to student persistence, especially if the student has low resiliency. Academic advisors have the opportunity to help strengthen student resiliency by providing students options and tools for success.
Work
As employers respond to changes in the economy, they are often faced with doing more with less. The impact on employees can result in increased workload due to workforce reduction, unemployment, or reassignment of duties. Our adult students are not immune to experiencing these significant life challenges. These challenges can lead students to decide to drop out, stop out, or reduce their course load.
When a Student Has a New Job with Increased Responsibilities
Ask the student to consider and articulate exactly how the change has impacted her life. If she's taken on a new job with increased responsibilities, what will that look like? If she usually works 8:30 – 5:00, will she now be working until 8:00 pm each night? Will she have to work weekends? Take work home?
Often, you will find that there is no concrete, observable change to the student's time, other than, "Well, it is much more responsibility and stress." In a supportive and non-judgmental way, challenge the connection the student has made between taking on more responsibility with her inability to manage coursework. Help her to see the conclusions that she's drawn. Does more stress between 8:30 and 5:00 mean that she cannot devote time to her studies at the end of the day or on weekends?
Help her to reframe her academic experience and expectations in light of the change at work. If there are specific changes, such as increased hours, help her to reset her academic plan to make it manageable.
When a Student Becomes Unemployed
If a student becomes unemployed, he may feel he needs to drop out due to lack of finances and the imperative to find employment. The student may experience emotional turmoil as he is required to redefine his professional identity and examine his financial stability. He may state that he needs time to focus solely on obtaining a new position. Engage the student in a discussion about a different way to view his situation. While he is seeking new employment, he will have more time to devote to classes, perhaps even accelerating his progress by taking more classes than he could if he were employed. Help him to identify sources of financial support which he may not have pursued previously. Help him consider that finishing the degree will help him move forward with his career goals, and is an independent endeavor from his employment.
The student may perceive a lack of structure in his life as a result of his unemployment. The advisor can provide the student structure by engaging the student in goal-setting for completing assignments, developing a study schedule, and revising an academic plan. The advisor can also ask the student to provide updates as to his employment situation as a way to demonstrate caring and engage the student in proactive academic planning.
Family and Health
Adult students may have children, partners, and parents for whom they care. The impact on the student will vary depending on the family network and values, as well as the role of the student in the family system.
I am always amazed at the human spirit and how much people can endure. I've worked with students who have repeatedly experienced significant loss, yet find a way to be successful in their academic studies. As students share their experiences with you as their advisor, you can serve several roles.
First and foremost, the advisor should provide an empathetic shoulder on which students can lean. Students should feel that the advisor cares about the student and the challenges she faces.
The advisor can further add value by providing students options when the student cannot see or think clearly. Discussions about incompletes, time-management, withdrawals, and temporary leaves may all be appropriate for helping students persist on a long-term basis.
Scenario: A Student Responsible for Long-Term Care
Students who are responsible for the care of family members may anticipate wide-ranging impact on their ability to persist in classes or their program. Early in my career, I encountered an adult student who was enthusiastically returning to school to pursue an associate's degree. We met and planned his program, and registered him for his first semester courses. He left with a spring in his step.
Just weeks later, his father-in-law had a stroke, which was going to keep him from running the family business. It fell on the student's wife and the student to help take over the business operations. The student came to me with a heavy heart as he informed me that he could not begin his studies due to the demands of his family on his time.
We talked about his role in the family business, and broke down what, exactly, would be required of him. We found that his decision was based on his emotional response to his wife's grief and fear of the unknown.
Once we examined the actual time commitment required of him in running the family business, he was able to see that he could still pursue his academic goals, but at a reduced course load. I had encouraged the student to always consider options whenever he faced similar challenges. At 45 years old, it was the first time that he realized that there are always options, and that his advisor could help him identify them.
Two years later, as he prepared to graduate, he told me that he forever thought of me as "The Big O." I thought he was referring to my last name but he clarified for me that "The Big O. is Options. You taught me that I always have options."
Strategies for Assisting Students in Overcoming Life Obstacles
Ask the student how the specific event (promotion, loss of job, illness, death of loved one) will impact the student's ability to attend classes and complete coursework. Identify concrete outcomes of the event and related responsibilities.

Effect on available time to study?
Impact on ability to concentrate?
Financial consequences?
Influence of others' response to event on student?

Assess the emotional impact of the event. Provide support and make appropriate referrals.

Listening and ongoing support
Counseling center
Career counseling
Workshops

Develop a plan including short-term and long-term planning. Provide options.

Time-management
Stress-management
Course scheduling and registration
Current semester, future semesters
Identify policies relevant to situation, including withdrawal, incompletes, leave of absence, prerequisites, program time limits, financial aid
Get Sue Ohrablo's Book High-Impact Advising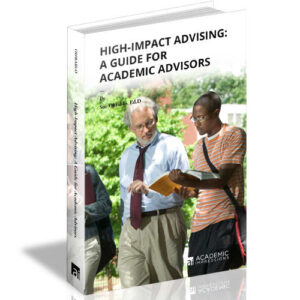 How can academic advisors provide high-quality developmental advising in the face of diminishing resources and increased commitments? We brought this question to Sue Ohrablo, a nationally recognized speaker with 25+ years of experience working with diverse institutions and student populations. In this 300-page, comprehensive training guide, Sue offers practical guidelines for academic advisors.
"I highly recommend that all academic advising professionals read High-Impact Advising: A Guide for Academic Advisors, as it will help them to enhance key skills needed to establish positive relationships with students, appropriately assess students' needs, effectively teach students, and efficiently provide high quality service."
Jacqueline T. Hollins, Assistant Vice Provost/Director of Academic Advisement, SUNY at Buffalo (UB)
"As a department leader in academic advisement, I would use Sue's book as a training resource and teaching mechanism for advisors. It allows advising professionals to understand today's complex environment of advising students, beyond just selecting courses."
Jake Shilts, Director, Advisement & Career Services, Miami Dade College
"Advisors will reap the benefits of this well-balanced, informative guide."
Shari Saperstein, Associate Dean, College of Undergraduate Studies, Nova Southeastern University
"A student-centered, informative, and practical approach. Dr. Ohrablo presents powerful guidelines geared towards student success for 21st century academic advisors. The handbook offers indispensable information and engaging scenarios that mirror real life college instances that students experience. A key resource tool for academic advisors and higher education professionals."
Dr. DeLaine Priest, Associate Vice President of Student Development and Enrollment Services, University of Central Florida