Get your investigators and hearing panelists up to speed and train every member of your faculty and staff who has an obligation to respond to reports of alleged sexual harassment. Your membership gives your team access to live and on-demand trainings across Title IX and several other key topic areas within higher education.
Want to add more users to your membership? A team- or institution-wide membership is a great way to gain access to online learning for your extended team. Contact us to add more users to your subscription.
See a Sample of What's Included
Featured Training
Changes to the current Title IX regulations are anticipated in May 2023. Academic Impressions looks forward to providing you with up-to-the-minute information about what your campus needs to know. In the meantime, here are some resources in support of ongoing Title IX training on your campus
VIRTUAL CONFERENCE
Foundations of Title IX Investigations: Training & Certification
June 23 & June 26, 2023
VIRTUAL CONFERENCE
Advanced Title IX Investigator Training and Certification
July 26 – 27, 2023
FREE WEBCAST RECORDING
Proposed Title IX Regulations: What You Should Be Doing Now
Recorded on August 12, 2022
Officials with Authority and Responsible Employees
ON-DEMAND! Officials with Authority and Responsible Employees: Helping Mandatory Reporters Comply with New Title IX Regulations
Train OWAs and other mandatory reporter employees on how to respond to reports of alleged sexual harassment.
Those with the designation of "Official with Authority" (OWA), "Responsible Employee," or "Mandatory Reporter Employee" have a responsibility to report any alleged incidents of sexual harassment to the Title IX Coordinator. This includes witnessed harassment as well as incidents shared with you by students, faculty, or staff. Failure to report as an OWA can trigger legal liability.
This video course will prepare employees to comply in their roles as a mandatory reporters of sexual harassment.
Members can administer this video course to their entire team of mandatory reporter employees, including OWAs.
Coordinators and Deputy Coordinators
Other Title IX Team Resources
View a list of all training content included in membership.
Fiscal Year Promotion:
Save Up to $1,500 on Membership
PARTNER WITH YOUR ACCOUNT MANAGER FOR ONGOING SUPPORT
Your Account Manager is your strategic partner dedicated to both maximizing membership adoption and ensuring its impact. We are invested in the success of your team and we customize our approach to your professional growth and development.
We understand that access to membership does not equal adoption, and adoption does not necessarily result in impact. Your Account Manager will collaborate with your team to ensure they engage with resources in a strategic manner, which will ultimately result in a lasting impact on their growth.
Access: At the start of the partnership, your Account Manager will work with you to plan launching membership resources to all assigned users. They will collaborate with you on a communication plan, conduct virtual open houses with your users, and ensure those with membership access have the resources they need to succeed.
Adoption: Throughout the course of your membership, your Account Manager will monitor usage and help identify professional development opportunities that will engage your team.
Impact: With the help of stakeholders, your Account Manager will deploy one or more impact surveys over the course of the membership term to help you understand what impact professional development has had on individuals. We measure satisfaction and gain an understanding of what your users have learned by engaging with Academic Impressions professional development opportunities.
MEMBERS RECEIVE ACCESS TO CONTENT ACROSS ALL OF THESE COLLECTIONS AND MORE
WHAT DOES MEMBERSHIP INCLUDE
Access to a continuously expanding library of live online trainings, designed to be practical, discussion-based, and highly experiential
Unlimited anytime, anywhere access to on-demand trainings and resources that you can engage with on your own time from the convenience of your workspace
New trainings every week, designed to respond to the latest needs of the higher ed community
$250 discount on multi-week cohort-based bootcamps and in-person conferences
Get These Trainings and More With Membership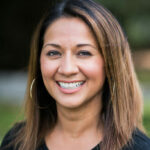 Rabia Khan Harvey
Senior Program Manager, Academic Impressions