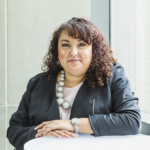 Charleon A. Jeffries
Director, Diversity, Equity, and Inclusion, Division of Development and Alumni Relations, Penn State University
Charleon has spent the last 18 years dedicated to improving and responding to issues of equity, inclusion, and justice at Penn State University. She is the inaugural Director of Diversity, Equity, and Inclusion (DE&I) for Penn State's Division Development of Alumni Relations (DDAR). In her role, she works directly with the Vice-President for DDAR in establishing and executing the Division's strategic priorities for DE&I.
Prior to joining the Division in May of 2018, Charleon spent five years as the lead diversity educator for Penn State's faculty and staff across the Commonwealth, and 11 years of progressively more significant roles in the College of Education's Office of Multicultural Programs. In addition, she is a member of the Penn State Presidential Commission on Racial and Ethnic Diversity and other University task forces. Charleon brings a deep theoretical understanding of concepts related to systemic oppression, equity, inclusion, intercultural awareness and humility, workplace culture, and change leadership.
Charleon is a sought-after consultant and trainer who has worked with school districts, business leaders, non-profits, and community-based organizations. Charleon's work is rooted in building business strategy for equity, inclusion, and belonging. Her work is aimed at diminishing the impact of, structural and systemic racism, unconscious bias, and microaggressions while growing external engagement, client and constituent relationships, and promoting innovative, inclusive, high achieving, results-oriented business plans.
Charleon is active in her community as well where she serves on the board of Centre Safe (formerly Centre County Women's Resource Center), and the local Community Diversity Group. Also, she has served as a volunteer providing individual and group therapy and advocacy for victims and survivors of domestic violence and sexual assault. She is a two-time graduate of Penn State University with degrees in Rehabilitation Services (B.S.) and Mental Health Counseling (M.Ed.). Both her educational and professional backgrounds and her commitment to justice enable Charleon to call people in to share responsibility for creating psychologically safe workspaces and communities.