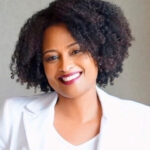 Juanita Ashby Bey
Juanita is the owner of Equity Consultation Designs and Services, a veteran, woman-owned consulting firm. She is a highly sought-after researcher and career educator who has dedicated her life to creating an equitable and inclusive educational space for Black, Indigenous and People of Color (BIPOC) students in the educational system. Organizations such as Savannah State University, Texas State University, Maryland State Department of Education, NC Department of Public Instruction and NASA are included on the list of organizations that Dr. Ashby Bey has worked with. 
Juanita prides herself on implementing practices that disrupt traditional methodologies and value systems, replacing those with meaningful, authentic, inclusive methods, mindsets, and practices. Her areas of expertise include, but are not limited to: Program Development and Management; Culturally Responsive Curriculum Development, Modification, and Implementation; Leadership Effectiveness; Culturally Responsive, Outcomes-Based Approaches for Assessment; Strategies to Resist Racial and Other Social or Cultural Biases; Research-Based Practices; Culturally Relevant Instructional and Leadership Practices; Teacher Preparation; Culturally Responsive Teaching; Critical Pedagogy; Teacher Identity Development; Assessment for Accreditation; and Intervention Models for Transformation in Education. 
She brings a mix of corporate, collegiate, and K-12 expertise that is unparalleled by big-box companies who focus on quantity over quality. Her team has more than 25 years of experience in teacher observation, while contributing to the paradigm shift toward equity and education. 
The Equity team of experts provides support for education leaders to foster learning cultures that are equitable and inclusive. The goal is to build and maintain strong and competent teams, culturally relevant instructional practices, and systematic approaches to curricula modifications to support BIPOC learners. The consulting firm has made its mark in the professional learning space with assessment and accreditation, and in sharing the interconnection of culture and cognition as evidenced by the national and international journal articles and conferences.