The role of Chief of Staff is intensive, difficult to define, and requires a unique and challenging skill set. We asked five veteran chiefs of staff for their best nuggets of advice for both those new to the role and those experienced in it:
LEARN FROM THESE EXPERTS
There is a growing need for quality job-specific training and professional development opportunities for university chiefs of staff. We have designed two highly practical programs, facilitated by our panel of current and former chiefs of staff to help you take charge of your own development and address some key job-specific challenges you are likely to encounter in your role.
---
VIRTUAL CONFERENCE
Fundamentals for Chiefs of Staff: Understanding Your Role and Ensuring Success from the Start
July 29 - 30, 2021
VIRTUAL CONFERENCE
Institute for Experienced Chiefs of Staff: Improving Your Processes, Communications, and Relationships
August 5 - 6, 2021
READ MORE EXPERT ADVICE
Browse this series of in-depth interviews, featuring our expert panel's best advice for new and experienced chiefs of staff.
---
INTERVIEW
Critical Advice for College and University Chiefs of Staff
How do you make yourself available as a liaison to faculty without appearing as a gatekeeper for the president?
INTERVIEW
What Every Experienced Chief of Staff Needs to Hear
Words of wisdom for chiefs of staff who have been in their role for a while.
INTERVIEW
Finding Your Feet as Chief of Staff
We know the chief of staff position can feel isolating at times. Here are some of the most helpful resources from others who serve in similar roles.
INTERVIEW
What the President Looks for in a Chief of Staff
The crucial competencies or traits presidents look for in a candidate when hiring for the chief of staff position.
INTERVIEW
What the Chief of Staff Needs to Do on Day One
Which relationships do you need to build from the first day of your job as chief of staff?
INTERVIEW
When the Chief of Staff Needs to Handle a Crisis
What are key skills that chiefs of staff need to build in order to best handle crises on campus?
INTERVIEW
The Chief of Staff and the Presidential Transition
How does the chief of staff's role change during a presidential transition, and what key steps does a chief of staff need to take?
WATCH A WEBCAST
Join us online to learn how you can better define your presidential assistant role, decide upon the skill sets that your institution needs, and implement a successful partnership on your campus.
---
WEBCAST RECORDING
Defining Your Role as Chief of Staff
It is essential to define the chief of staff role at your institution to ensure a smooth and more successful partnership with your president.
WEBCAST RECORDING
Your First Month as a New Chief of Staff: How to Get It Right from the Start
Learn what you need to get off to a flying start in your role as Chief of Staff.
WEBCAST RECORDING
A Process-Oriented Approach to Working with Your Board and President as Chief of Staff
Learn negotiation and communication strategies to help implement the initiatives of your Board and President.
WEBCAST RECORDING
Accelerate Your Professional Growth: A Forum for Chiefs of Staff
Join other Chiefs of Staff to grow your skillset, support network, and influence on campus.
WEBCAST RECORDING
An Introduction to Advancement Event Protocol and Etiquette Webcast Recording
Ensure a better event experience for your donors with an understanding of proper event etiquette.
MORE STRATEGIES TO SUPPORT
YOUR PRESIDENT
The only book of its kind, From Presidential Transition to Integration is a practical, in-depth handbook to setting up a college or university presidency for success. It's a must-read for aspiring presidents, transition committees, and boards.
---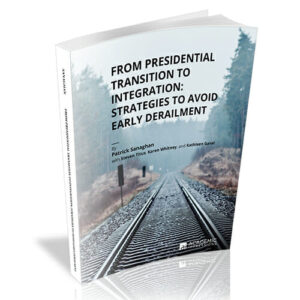 BOOK
From Presidential Transition to Integration
Why so many abrupt presidential exits? And how can we prevent them?
Membership Includes All Leadership Content and Much More
Save Up to $2000 on Membership Through June
Get Unlimited Online Professional Development
Buy membership based on desired number of users  
Invite users to your membership
Engage with upcoming and on-demand online trainings 
Learn more about membership benefits, included content, and pricing.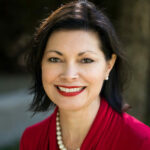 Elizabeth Ross Hubbell
Senior Program Manager, Academic Impressions